Behind Door Number Three Is...A Surprisingly Good Show
CBS' revival of the classic "Let's Make A Deal" game show gets it right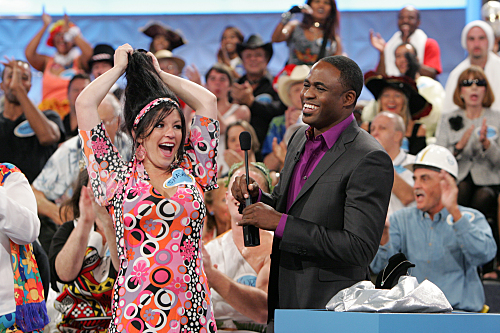 The new daytime game show,
"Let's Make A Deal,"
premiered Monday on CBS and it's already won me over.
I admit, I went into this reboot of the classic game show with a fair amount of trepidation. I was a big fan of the original, having watched reruns of it every morning before school while growing up. The main draw for me was the host, Monty Hall, whose playful dealings with audience members always seemed to be masking some deep-seated contempt for them.
"OK, Jean Hanson of Sheboygan, Wisconsin, you're dressed as a clown, I've given you a thousand dollars, and you're going to trade it for what's behind Door Number One? Fine. Here's a mule."
Wayne Brady, the saccharine funnyman who your aunt thinks is a real card, did not seem like the best choice for this show. Sure, he's a great improviser and could probably nail the audience patter, but where's the edge? Well, in the new series, Brady is affable to the core, but the show is still good dumb fun, mainly because it's nearly identical to the '60s original.
CBS got it right by following the old axiom: "if it ain't broke, don't fix it." As a result, the new show is exactly the same as the old one: Brady picks costumed rubes from the audience and offers them deals, which they can keep or trade for a chance at an unknown prize. The prizes, hidden behind curtains or in boxes, can either be fabulous kitchen sets or dummy prizes (called "Zonks"). To give you an idea of how close this series is to the original, the announcer still calls ovens "ranges." Bravo!
The best part about this show is that it makes no pretense at all about being smart. There is no skill involved in playing "Let's Make A Deal." It's purely a game of chance, like
"Deal or No Deal,"
without all the dramatic lighting and music cues. It's just a guy on a basic set giving average people a chance to win money while toying with them a little bit first. What's not to like?
The only problem is that CBS may be running out of former
"Whose Line Is It Anyway?"
stars to tap for game shows. Colin Mochrie as the host of the new "Match Game," anybody?