Will Arnett, David Cross and Spike Jonze Hate America
Or at least they must, in order to only be airing their new show overseas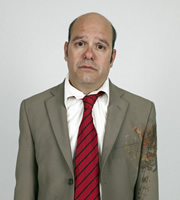 Apparently fed up with getting (understandably) derided for his poor choices in easy-paycheck American films and the preemptive cancellations of both "Mr. Show
"
and
"Arrested Development," beloved indie-comedian David Cross has fled to London for his acting pursuits.
In the seemingly hilarious (and deliriously profane) new sitcom, "The Increasingly Poor Decisions of Todd Margaret," Cross portrays a woe-begotten corporate schmuck sent to the UK in order to boost his company's sales of some cockamamey energy drink.
Cross' "Development" co-star Will Arnett and "Where the Wild Things Are" director/random Coppola family member Spike Jonze portray two of the show's ensemble cast.
Only problem for American audiences? It's only being broadcast on BBC's Channel 4. (Because, apparently, England still only has like 6 channels.) Now what in the world could possibly make the troupe of funnymen think that American networks wouldn't nurture an explosively vulgar program that essentially skewers the very culture that pays their advertising bills?
Alas, if you want to get a glimpse of "Margaret," check out some hot, steamy, NSFW action
here
.

Much as I can do with or without David Cross as a public persona, he does tend to complement this kind of supporting cast pretty sublimely.

Can't blame 'em for takin' it overseas, and I'm sure it will come over here eventually just like, say, "Summer Heights High" did. Just the roundabout way.


Are you sure you want to delete this comment?