'Law & Order' Celebrates 20th Season
How much more justice can one show mete out?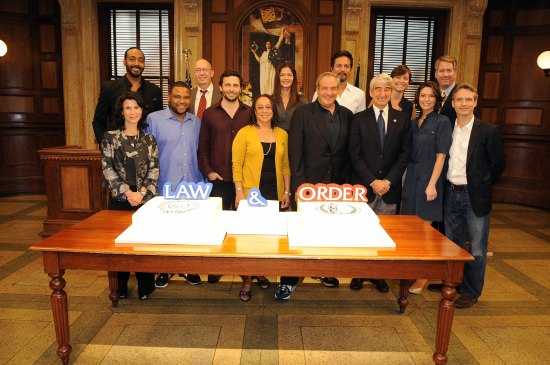 The granddaddy of modern crime procedurals,
"Law & Order,"
is celebrating 20 years on the air (and 20 years of being a show my dad watches) on Friday with its 20th season premiere. The show will tie
"Gunsmoke"
as the longest-running drama on TV.
Former cast members, such as Angie Harmon and Benjamin Bratt, returned to the courtroom set of the venerable program, joining current stars Anthony Anderson and Sam Waterston to toast the TV milestone.
At this point, "Law & Order" is more than just a show, it's an institution. Since its debut in September of 1990, the show has employed just about every working actor in New York. And, of course, it has spawned several spin-offs: "Law & Order: Special Victims Unit," "Law & Order: Criminal Intent," "Law & Order: Trial By Jury," and the less-successful mid-'90s crossover, "Law & Order & Dharma & Greg."
To put the 20 years in perspective, let's say that every episode has an average of four clunk-clunk sound effects. Multiply that by 433 episodes and you've got 1,732 clunk-clunks, or 3,464 individual clunks. That's a lot of clunks.
Series creator Dick Wolf says he hopes the show will return for a 21st season next fall, earning "Law & Order" its rightful place as the single longest-running drama in TV history. "I hope we'll see you here in 2013," he said. You could almost hear that declaration being punctuated with a resounding clunk-clunk.