What to Expect From the New 'Melrose Place'
The show's actors give us a taste of what to expect from the rebooted series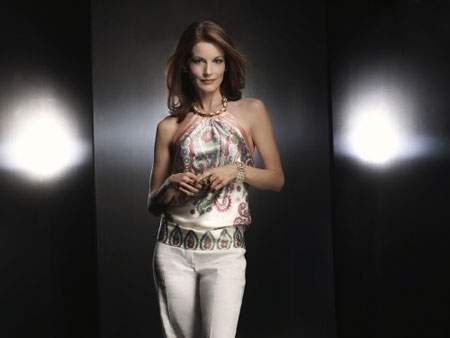 By Raoul Mowatt
Special to MSN TV
When "Melrose Place" fans last saw unrepentant troublemaker Sydney Andrews, she was hit by a car and seemingly killed on her wedding day.
She got better.
Now Sydney's at the center of the new "Melrose Place," which airs Tuesdays at 9 p.m. on the CW. Laura Leighton, the actress who portrays Sydney, says there's plenty for longtime fans and first-time viewers in the update.
"The audience who remembers the old version is going to be drawn back to find out what happened to these characters and drawn back also by remembering watching 'Melrose' in the '90s," Leighton says. "For the new audience, the storylines are contained in a way that the new audience will follow but the old audience will understand the extra nuances and the history of those characters together."
As in the original series, steam, scandal and scheming abound as a group of hot 20-something neighbors try to figure out their lives. But "Melrose Place" 2.0 seems to aim higher, and attempts to distance itself from the campy, over-the-top nature of the original.
It launches with a mystery where the victim is found floating in the infamous pool that has been the site of countless catfights and trysts. That murder is going to have reverberations for the first half of the season.
"What it triggers is finding out everyone on the show could be a suspect, and not everyone perhaps is what they seem," Leighton says. "But it also becomes I think a unique device for telling stories and looking back in retrospect, because the series does have … twelve missing years of things that have happened."
Eventually, for instance, the show may well fill in the details on how Sydney faked her own death, developed an alcohol problem, and became the new landlord at 4616 Melrose Place.
As for the other current tenants, they share some characteristics with their predecessors while adding their own wrinkles.
Ella (Katie Cassidy) is a hyper-aggressive, take-no-prisoners publicist in a mold similar to the original's Amanda. Lauren (Stephanie Jacobsen) is an up-and-coming medical student whose inability to pay for school has her contemplating the world's oldest profession. Violet (Ashlee Simpson-Wentz) is the redheaded newcomer to the complex. And Riley (Jessica Lucas) is a school teacher who has been dating her boyfriend Jonah for five years but worries if he'll ever grow up.
The male half of the cast includes Auggie (Colin Egglesfield), a sous-chef at Coal, the gang's hangout; David (Shaun Sipos), the estranged son of original-series character Michael Mancini (Thomas Calabro, who also appears in the new version); and Jonah (Michael Rady), a nerdy aspiring filmmaker who has Ella hoping for something more than friendship.
Besides Leighton and Calabro, at least two vets of the original "Melrose Place" are set for stints on the CW's incarnation. Josie Bissett will return as Sydney's sister Jane and Daphne Zuniga will play Jo once more. Leighton says she's hoping they aren't the only ones to make a comeback. She says the writers are still hoping to get Heather Locklear to reprise Amanda and are open to bringing back any character as long as they can find a story for them.
Egglesfield says he enjoys the brisk pacing of the show and how it tries to take a cinematic approach.  "What's really fun too is they take these characters down a path you think they are going to go down and all of the sudden they veer 90 degrees one way or another," he adds. "It's kind of fun to see these characters get into situations and see the kind of choices they'll make. Because they're the kind of choices we all have to make in real life and we can relate to them."
That causes Leighton to laugh a little. "Like where to hide the weapons? How to burn the evidence?" she says. "I'm struggling with that every day in my life."
"Melrose Place" airs Tuesdays at 9 p.m. ET/PT on The CW.

Glee is Fabulous!. I like the show and I wanted to be seen on fox.com full of comedy and musicals. I want to see more each week and thank you very much for giving us glee. Ryan Murphy did a good job on the series and I just want Casey Kasem, 78 and Ryan Secrest, 28 to tell me how did these top 40 songs put them in a musical. I also want to know there's a murder at Melrose Place and I want to see to that to that that I love that show from a cancelled series in 1999. 90210, please welcome after a 7 year absence from a cancelled program and after 90210's last episode in 2000 the return of melrose place. I want to see more 90210, Melrose Place, Dollhouse and Glee as part of the good show first online at cwtv.com and fox.com. Wow! what 4 serieses.
Does 90210 has all the seasons of life in this next story when I thought Shannen and Jennie are back for the second season, Is Murder and temptation return after a 7 year absence when the cw and cwtv.com brigns back Melrose Place joining 90210, Does Dollhouse make reality where anything else happens there and does Glee have all the music and comedy they can ever get so the fans can see. Glee, you made my day.
Are you sure you want to delete this comment?