'CSI' Star Power
Laurence Fishburne does the big crossover this week -- plus a visit from Kim Kardashian and Vanessa Minnillo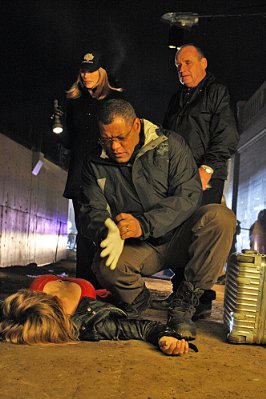 Laurence Fishburne is having quite the hectic sweeps week. This week, the actor heads from Vegas to Miami to New York and back to Vegas in an interconnected storyline that spans the "CSI" franchise.
The gruff actor, who stars as Dr. Ray Langston on "CSI: Crime Scene Investigation," saw his character
cross over yesterday
to work on an investigation for "CSI: Miami" when that show's Horatio Caine (David Caruso) called the detective in on a case involving a girl MIA from Vegas whose leg shows up (sans girl, naturally) in Miami. Freaky!
But Fishburne's not done traveling yet. He heads to "CSI: New York" tomorrow night when that show's Det. Mac Taylor (Gary Sinise) calls him on a case involving an interstate trucking ring.
Then he heads back to Vegas to pick up Langston's search for a girl taken hostage in a human trafficking operation that turns out be part of a prostitution ring. And it turns out it's all related to that same missing girl.
Whew. We're tired just writing about it! But Fishburne told CBS News he was "excited" to do the cross-overs. "They came and said 'What do you think?' and I was like, 'Yeah, that sounds like fun.' And it sounded like something that would be natural."
Plus, it's a great way for viewers to really get comfortable with Fishburne's character Langhorne, who's been around since last year. "I feel a lot more comfortable," Fishburne said. "It's been a year since I started working on 'CSI.' And a one-hour drama, it seems that it takes about two years to really flush a character out. But this triple cross-over might accelerate that process a little bit for me."
As if Fishburne wasn't enough to get you tuning in to the venerable CBS franchise -- they've got hotties to boot. On Friday, Kim Kardashian tweeted bright and early that she was "Up and on my way to the set of CSI." A rep for CBS confirmed that the reality star was in New York shooting for the Dec. 16th episode of "CSI: NY." She joins guest star Vanessa Minnillo -- you know, the former "TRL" host and Nick Lachey's ex -- in playinh a duo of hot wannabe criminal masterminds. Can't wait for that.
Are you sure you want to delete this comment?