Is 'The Office' Losing Pace to 'Parks and Recreation'?
So far this season, Amy Poehler's balanced comedy is outclassing Steve Carell's tiring workplace satire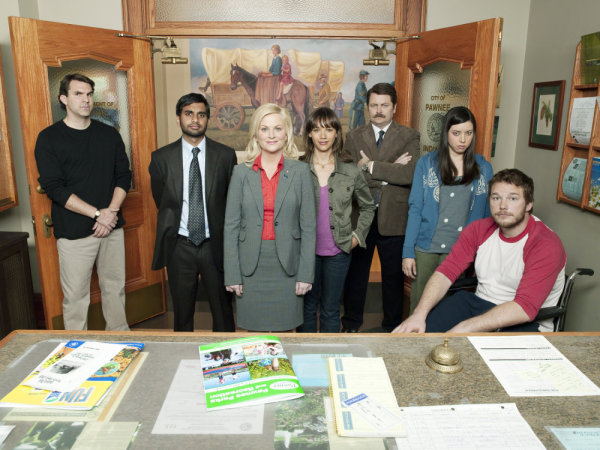 There are a few things in life I never thought I'd hear myself say: "Stop, that boat is eating your leg!"; "You're right, Jennie Garth is better complemented by a deep shade of pine"; and "Man, this matzoh farfel is delish," among others.

But I never expected, "Is it just me, or is 'Parks and Recreation' a vastly superior show to 'The Office' this season?" to be initiated into that magnanimous trio.

Then again, I've been typing all this and not actually uttering it out loud, so I haven't actually audibly digested any of it.

Clinical semantics aside, it's become abundantly clear that Amy Poehler's (admittedly) "Office"-inspired, mockumentary-style sitcom has just begun to find its increasingly subtle comedic voice, while Steve Carell and Co.'s venerable navel-gazing at the world of Scranton paper-manufacturing has devolved into shark-jumping special episodes and alienating-but-inevitable character development. There's a reason, after all, why Ricky Gervais ceased production on the original British incarnation of the series after a modest slate of episodes.

To look at the issue globally, you could argue that "The Office" was initially a caricature study that was forced, as a casualty of its own continually renewed success, to enhance the storylines of its central characters and ultimately deviate from the core dynamics that made them so appealing.

Por ejemplo, Jim is almost aggressively unlikeable in the role of a newly appointed boss dealing with the growing pains of embracing authority, while Jenna Fischer (I regret to opine) seems in a bit over her head with a suddenly scripted bounty of more colorful dialogue as Pam. Not that, much like their fictional counterparts, both John Krasinki and Fischer didn't deserve a promotion to more nuanced material, but I think we can all agree that their characters were easier to root for as pair of star-crossed, would-be lovers reconciled to professional and personal mediocrity.

Alternatively, one (i.e. moi) could hypothesize that, in its second (and first full-order) season, "Parks and Rec" has quickly distinguished itself—aesthetic similarities to "The Office" aside—as a program with an unexpected, cast-wide humanity, anchored by Amy's far-from-Poehler-izing performance as Leslie Knope. The "SNL" vet and sometime-film star (I highly recommend her uncanny meditation on maniacal teen-theater directors in "Wet Hot American Summer"), whom TV Buzz recently anointed as an optimal would-be Oscars host, is less Michael Scott in a power suit than Mary Richards with a bit of well-intentioned, Midwestern overearnestness.

Also, Chris Pratt's portrayal of hapless, homeless, lovesick Andy is arguably the funniest character on any series or network right now, bar none. It's exceedingly unsurprising to discover that, offscreen, Pratt is engaged to fellow winning goofball Anna Faris.

This isn't to make myself out as the spoiled kid with so many awesome toys that he forgets the virtues of classic playmates that got him through his formative years. "The Office" is still funny, and remains an unspeakably more rewarding experience than all the other yuckless formula-fests on primetime networks. But while the writers try and self-consciously conceal obvious concessions to mass-audience expectations, and Carell gamely ensures Michael is reliably rooted arrested in development, the wheels at Dunder-Mifflin have slowly commenced their spin. But over in Pawnee, Indiana, there's reason to be excited that its incumbent offspring has just begun to shift into qualitative gear.