Curses to 'SNL'
Sure, Jenny Slate had an inauspicious debut, but she's not alone in foul-ing up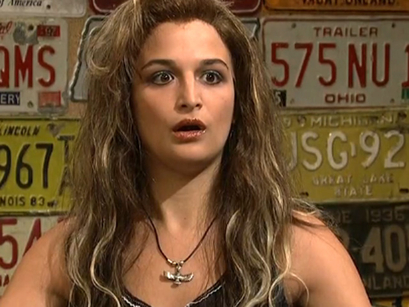 NBC/Saturday Night Live
Looks like New York news anchor
Ernie Anastos
can finally get back to more tender moments. He's no longer the most notorious epithet-spewer on broadcast television, thanks to former VH1 talking head-turned-"SNL" cast newbie Jenny Slate.
By now, it's been globally discussed that the standup-cum-comedic actress inadvertently
dropped an F-bomb
(which is actually how we used to refer to gaseous reflux after eating cafeteria meat in college) in lieu of the oft-scripted word "frickin'" during a "Biker Chick Chat" segment.
Personally, I think it was a staff writer hazing trick. It's a bit too curious that a rookie performer's inaugural skit would entail the redundant uttering of slang that's a dead-ringer pronounce-alike for the foulest of curse words.
But alas, Jenny, take solace in the trail-blazing examples of former cast members like
Charles Rocket
and
Norm MacDonald
.
Albeit, those are dubious precedents for future success, but at least (as was learned today), Slate won't be getting fired over the incident. She will, however, rocket to beyond-the-norm recognition at lightning speed thanks to her slip-up occurring during the viral communications era. So maybe the trick is on us! (This is where you insert orgasmically satisfied evil-villain noises.)