The Presidential Late Night Wars
Why Dave's Obama interview was better than Jay's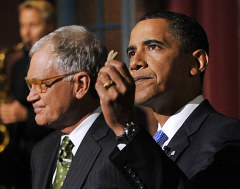 Jay Leno made history back in March by having the first-ever sitting president on a late night talk show. It was a major "get" and surely stuck in David Letterman's craw, but like so many key events in the late night battle, Jay won the race but Dave did it better.
On last night's "Late Show," President Obama was funny, intelligent and charming, just like he was on Leno six months ago, but Letterman's interview was more memorable, mainly because of a heart-shaped potato.
Give credit to Dave for making the most out of his lackluster studio audience (probably filled with a lot of CBS employees who called in favors) by making fun of a woman who'd brought a shriveled heart-shaped potato to show him. When Obama referenced the potato at the top of his interview, Dave ventured out into the audience and gave the president the misshapen spud as a gift.
It was very dumb, very specific and had nothing at all to do with the president's talking points on health care. In other words, it was great television.
Dave also asked some probing questions, like whether all the vocal opposition he was experiencing might be due to racism (Obama's response: "I was actually black before the election," a perfectly hilarious non-answer.) Leno is on sure footing asking questions like, "How cool is it to fly in Air Force One?," but it's hard to imagine him asking about racism or, as Letterman did, whether the war in Iraq had made America safer. It's the same reason why baiting Kanye West for an apology on "The Jay Leno Show" seemed disingenuous.
Obama's lengthy spiel about health care reform may have been over Letterman's head last night, but Dave didn't pretend to understand it. After a pause, he replied simply, "Your job is harder than mine."
Watch both interviews for yourself and let us know who you think won the Presidential Late Night War.
Are you sure you want to delete this comment?