Michelle Obama To Appear On 'Sesame Street'
The First Lady will kick off the show's 40th season with gardening tips. Yawn.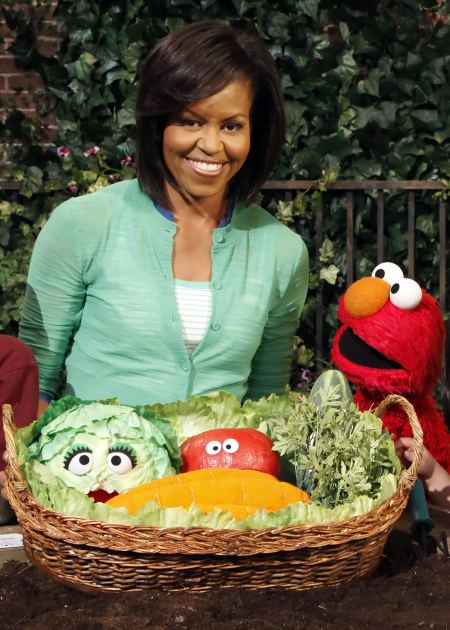 First Lady Michelle Obama will make an appearance on the 40th season premiere of
"Sesame Street"
on November 10th, teaching kids how to plant gardens, how eat healthy and, just maybe, how to get rock hard biceps.
Obama will show the Muppets and children of Sesame Street the proper way to plant tomato and cucumber seeds. "All these seeds need to grow are sun, soil and water," she says in the segment. "If you eat these healthy foods, you're going to grow up to be big and strong, like me."

Michelle Obama joins Hillary Clinton, Laura Bush and Barbara Bush in the First Lady "Sesame Street" club. Barbara was the first to do the show in 1990, promoting reading with Big Bird, followed by Hillary, promoting health, in 1993, and Laura, promoting reading again, in 2003.
Gardening? Reading? Health? Reading? I appreciate that the First Ladies are trying to educate kids, but could they have picked more boring pet issues to promote? I'm not saying they need to be overtly political, but there's no reason they can't tackle issues with a little more heft. Other political figures have.

United Nations Secretary General Kofi Annan got it exactly right in his 2001 appearance when he mediated a dispute between several furry monsters. Elmo and his pals were arguing over who got to sing "The Alphabet Song," so Annan stepped in and persuaded them all to join in. Perhaps a young person watching that will one day figure out a way to patch up the differences between warring factions in the Middle East.
And in 1988, Ralph Nader expressed concern about the safety of the wheels on a child's wagon, then sang a song called "A Consumer Advocate Is Someone In Your Neighborhood." Kind of makes Obama's gardening tips seem like kid's stuff.

great...kate didnt have all the kids by her self. shes only in it for the money. when she was on the show she talked to jon like a dog and and now shes going to take the high road.  shes full of it. maybe if she stopped and took a long look at herself she  might she how she turned into a witch right in front on every ones eyes.
Are you sure you want to delete this comment?