'American Idol' Recap: That Don't Impress Us Much
Chicago, Shania Twain serve up an underwhelming audition episode
By Bret Federigan
Special to MSN TV
Well, that was ho-hum. Chicago was the largest stop on the "American Idol" audition tour thus far. But, in comparison to Boston and Atlanta last week, Tuesday night's audition episode turned up way more duds than studs. And there was nary a can't-miss prospect among the Hollywood-bound bunch. Of course, it makes sense for the producers to withhold their best singers from the airwaves. But, come on. It's OK to show viewers at least a couple of Chicagoans we can believe in!
"Idol" Scrapbook: See singers from past seasons | Fansite: See what Simon says
Guest judge Shania Twain was lovely as ever, but didn't add much to the proceedings. Despite one saucy exchange with contestant John Park, it looked like producers couldn't find any footage of her giving interesting feedback. Either that or this audition stop just didn't make for good television.
Plus: Kara DioGuardi sounds off on Ellen | Season 9 Preview: What changes to expect
Wednesday night's episode in Orlando should be a bit more entertaining, especially with cute-as-all-get-out Kristin Chenoweth joining the judges' table. Please let that be the case.
Also: Season 9 gallery | Meet the "Idol" guest judges | Dramatic "Idol" makeovers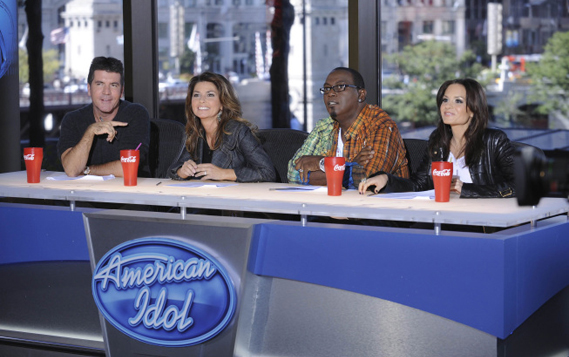 A couple of thoughts:
I know they taped this audition stop this past summer, but I can't help thinking that Simon already looked bored with the show well before he announced that he'd be leaving.

Why did I never notice Shania's accent until now?

With Shania offering up very little substantive commentary, this was actually an episode where I could have used a bit more of Kara talking.
The Good
As in Boston and Atlanta, the first contestant to appear on this episode gets a golden ticket. Teenager Katelyn Epperly, dressed like Taylor Swift, kicked the show off delivering a very grown-up sounding "Syrup and Honey" by Duffy. But this girl is no teen idol wannabe, that's for sure. After sharing with Ryan that her father had recently left her family, she wasn't in much of a mood to sing anything light and perky. Hence, the dark and somewhat pensive vocal delivery. But, as Shania put it, Katelyn has a voice that can "sell records." It's true. But personality sells, too.

Charity Vance is all of 16-years-old. She looks it and acts it. And despite an impressive range and control, she sure sounds it, too. Her voice could use some maturing. Charity may be headed to Hollywood, but she doesn't seem ready for the big time. Give her a couple of years.

This was the third go-around for Angela Martin, who reminds me a little bit of Fantasia and Lil Rounds. She sure sounded a lot like Lil, as she delivered "Just Fine" by Mary J. Blige. For the judges, "Just Fine" was good enough. They applauded Angela for learning from previous auditions and keeping at it. "Hot vocals," said Randy. "You're just good," added Simon. Something tells me that this is a contestant who producers hope will catch fire with viewers.

College student John Park's got a crooner-ish appeal. Slightly nerdy and shy, he had Shania seemingly all hot and bothered. She made a verbal slip-up, remarking (in reference to his vocal range), "You have a beautiful bottom." Boy, did Randy pounce. Shania didn't make things any better when she tried to make light of her gaffe by adding, "You have nice lips." Awkward!

Paige DeChausse threw down some Sam Cooke during her audition. While Simon wasn't impressed with her "indulgent" vocal runs, both Kara and Shania thought she needed some improvement, but performed well enough to move on. They, of course, had to cajole Randy a little bit for his "Yes" vote.

Also snagging golden tickets were Justin Ray, Keith Semple and Marcus Jones.

Number of Chicago golden tickets in all: 13
The Bad
Ever heard Maxwell sing his cover of "This Woman's Work" by Kate Bush? It's angelic and ethereal. Curley Newburn's version? Not so much. In fact, it was downright freaky. Laughs all around the judges' table.

Alannah Halbert committed the oft-repeated sin of trying to sing Whitney Houston. Sheesh, no one ever learns. Even with Shania and Kara trying to coach her through it, the audition still sounded horrific.

Brian Krause chose to channel his inner-Tiny Tim. I know, right?!? Sounding like a banshee and tip-toeing around like a frightened chipmunk, Brian garnered only grimaces from the judges. "Is this a joke?" asked Kara. "That was weird," Randy commented. In my opinion, simply scary. Very scary.

Harold Davis delivered a spirited version of "Nice and Slow" by Usher. It wasn't always in-tune or accurate, but it was full of attitude. After getting rejected by the judges, the dude actually started to cry. Oh, goodness. No one wants to see that.
The Embarrassing
Amy Lang must have been watching Nick "Norman Gentle" Mitchell last season because she sure looked like she was fixing to be this year's class clown. After announcing that she was going to sing Aretha Franklin, she promptly fell to the floor in a faux-faint. Pausing a beat, she leapt right up and showed off her brassy pipes (the girl can really sing). But Amy didn't know when to quit; she kept up her shtick by bouncing her, um, talents for the judges. Simon wasn't amused. I'm guessing, neither were you.
What say you? What did you think of the Chicago auditions?