'Enthusiasm' Curbed
After last night's grating episode and season's general weirdness, let's stick to the 'Seinfeld'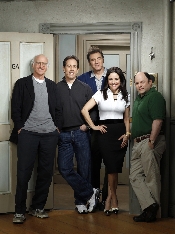 Ya know, when I wrote about the "Seinfeld" arc on "Curb Your Enthusiasm" being a reprieve from the
former's recent syndication shuffle
, I didn't know I'd also need the Season 7 subplot as a diversion from "Curb" itself.
Last night's "The Hot Towel" was, even by my usually fawning standards, an almost unwatchable, 30-minute patchwork of Larry being abruptly and needlessly bullying to Ted Danson, Christian Slater and guest star
Phillip Baker Hall
. It was as if he was trying to emphasize how unchecked the Larry persona  had become in Cheryl's absence, before re-invigorating the real storyline of the season, which is pursuing his fictional ex by casting her in a "Seinfeld" reunion.
And that, as a device, may have been more forgivable had this occasionally inspired season not already been littered with creepily crass middle-aged sexuality (Susie pleasing Jeff in "Vehicular Fellatio," Jeff audibly moaning and groaning mid-intercourse with a mentally challenged Catherine O'Hara in the premiere, et al), uniquely (even for "Curb") unprompted neurotic outbursts (his shenanigans with Loretta's physician come to mind) and other incidents that are indicating perhaps, like Cheryl, we need a little less Larry.
Which, again, may well be the point. But the problem is that what I (nay, we) always loved about "Curb" is watching him inflict misery and indignation on his uber-wealthy, semi-fictional Hollywood peers and neighbors, not putting us through it as well in some kind of virtual Larry reality experiment.
Here's to hoping next week, and the ensuing handful of episodes thereafter, are re-focused on the things that always made both the real-life and fictional Larry David great: Jerry, George, Elaine and Kramer, and now, Cheryl.

usually larry picks on people that deserve it and then takes it to the level we would never let ourselves get to - living vicariously through his antics and seeing what would actually happen if said exactly what we were thinking.  (b/c the rest of us didn't create 'seinfeld' we would not be forgiven time and time again like larry, unfortunately)  but yeah, this week's episode was just non-stop picking on people who didn't really deserve it.  usually there is a much bigger build up before larry opens his mouth.  so that when he does we are on his side at least a little bit.  ugh, i really hope seinfeld gets this show back on track.


Are you sure you want to delete this comment?