'Idol' Chatter
Randy Jackson Spills on the ninth season of 'American Idol'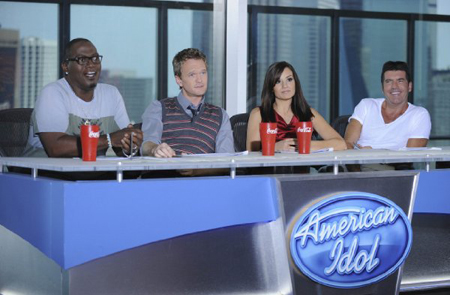 As 'American Idol' goes into it's second night of its season premiere -- catch it tonight at 8 p.m. on FOX -- we caught up with celebrity judge Randy Jackson for a quick chat about missing pal Paula Abdul, Simon's "sternness" -- and his new judging buddy Ellen.
ON CONTESTANTS WHO STILL SUCK:
"I often sit there and think somebody is playing a trick on me. Somebody is trying to drive me out of my mind. I am growing a little impatient with that because, look, you've watched the show. You know what it is. You see every year somebody great wins, the top three or four or five people are all usually great singers. So you just have to wonder, 'What are they seeing that I'm not seeing?'  It's like we're not on the same page here, so, yes, I am getting a bit impatient with that! But I think it's always new enough that for me that it's definitely exciting again. It's like riding a bike -- you jump back on, and you're like, dude, this is it! But I don't know about golden tickets. Those golden tickets are hard to come by."
ON MISSING PAULA ABDUL:
"We look down the table sometimes and go, 'Wait, where's Paula?' So it's going to take a little getting used to, but we're really sad about [her leaving]. The Paula thing is very near and dear to my heart. She's one of my best friends. I talked to her a couple of days ago."
ON HIS PAL ELLEN:
"She's great. She's funny, she's charismatic, she's really cool. She's my home girl from Louisiana like me, which we love Louisiana, right? We've had a relationship for a long time, so has Ryan Seacrest. So we're really good friends with her. I think we're going to have a very funny, interesting season ahead of us. There will be a lot of laughs. And we had great guest judges -- Mary J. Blige, Victoria Beckham, Joe Jonas, Katy Perry, Kristin Chenoweth, Neil Patrick Harris. They all brought something different to the table -- and they do really know what they're doing."
ON SIMON'S STERNNESS:
"Look, he's not really mean. I love his phrase. You can quote his phrase, 'I don't mean to be rude, but...' He's honest from his perspective. Sometimes it's maybe a bit harsh, but some people call that real. I don't know if he's any meaner than he's ever been. I would just call it very stern."
ON CULTIVATING TALENT:
"I think 'American Idol' is that lightening in a bottle that captures the moment for those that can't. This show is definitely a rocket ship to the top. It's the quickest road to stardom, even though it's immensely difficult because you're in front of 25 million, 30 million people a night and you have us judging you very harshly and sternly. So you're putting your soul before the public. But I think it's the rocket ship to the top."