Shocker of the Day: Shayne Lamas Still Single, Starring In Reality Show
Daughter of Lorenzo/'Bachelor' victor cozies up to 'Girls Next Door'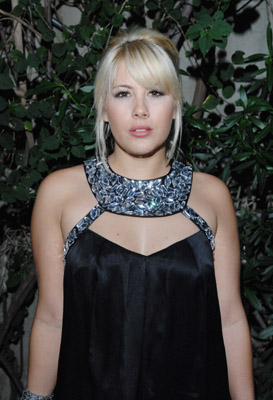 Welcome to what will be a recurring feature here on TV Buzz, Shocker of the Day (which isn't nearly as inappropriate as it sounds). How regular you ask? Well, certainly more regular than a fiber-deprived consti-patient. But only as frequent as television and its infected appendage known as pop-culture keep providing me with "Didn't see that coming... until I did," can't-be-scripted blog fodder.
In case you haven't heard by now (and really, who can these days with the constant clamor of cultural substance disintegrating?), Lorenzo Lamas' daughter, Shayne Lamas, is starring in her own reality show, preciously titled "Leave it to Lamas." The invariably soon-to-be-canceled series debuts on E! Oct. 11 at 10:30, just after the Hugh Hefner real-time death-watch known as "Girls Next Door."
In a nutshell, despite receiving the triumphant rose and subsequent calculated marriage proposal from Matt Grant on "The Bachelor: London Calling," Lamas is single and ready to find love and reunite with her estranged family members—and stuff.
Of course, she wouldn't be the first reality star to have a near-miss with romance and get a second chance via more intensified time in the spotlight. 
There was Tiffany Pollard, aka New York, and her numerous, utterly inessential spinoffs. And other "Bachelor" ex-pats themselves, like America's sweetheart and recent "Bachelorette" protagonist, Jillian Harris.
But you'd at least think the star-kissed offspring of Lorenzo—star of such unforgettable basic-cable action dramas as "Renegade"—wouldn't have any trouble in the boots-knocking department. Then again, her dad was the star of such unforgettable basic-cable dramas as "Renegade."
Here's Shayne acting way less nutty than she actually is for a shamelessly self-promotional E! news segment:
(Photo Courtesy of Amy Graves/WireImage.com)