'Survivor Samoa' Exit Interview: Ben Browning
The 'country bad boy' spills on reality TV, racism and his pal Russell H.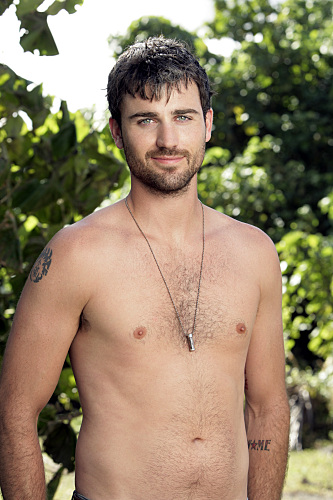 Resident bad boy Ben Browning, a firestarter with the penchant for making trouble, brought some high drama to the Foa Foa tribe's daily drudgery. Ben buddied up to manipulative Russell in an attempt to gang up on Ashley. But his feud with fellow Foa Foa tribemate Jaison -- who accused the Missouri-raised L.A. transplant of being racist after he called Galu tribe member Yasmin  "ghetto trash" -- landed him on the chopping block, where he was unanimiously voted off by his teammates, including pal Russell H.
On Being "Toxic":
"I'm the country bad boy, I guess. It's all creative editing. I didn't start even one of those fights. I told people right from the beginning that I would be very reactive -- you come at me, then you better have your gloves up. Most people would never come up to me, because I'm a pretty big guy. I have a pretty big presence, I'm loud and I'm fun. I just don't take shit from anyone. And in the end, I'm cool with everybody. I had a good time, it was a cool experience, and I'd do it again for sure."
On His Feud with Jaison:
"Jaison's a thinker. He gets inside his head a bit too much. He's kind of a crybaby anyway. At camp, he threw a lot of temper tantrums. It was kind of funny to see a grown man be like that. But I wasn't really surprised because I had talked to him a bit and he was very, very sensitive. He played the race card a lot. And they don't show that a lot, they just make me look like the bad guy. And as far as Yasmin goes, I did what any real man would do. If someone comes into your house and starts talking shit about your family, what are you gonna do? I stood up for everybody, while they stood around with their tail between their legs."
On His Team's Chances for Survival:
"Without me, they're going to be cold, wet, cranky. They're going to get a rude awakening, I think. I was really the only one who knew I was doing in that setting -- they can't even make a fire. But they're okay. The other team was doing yoga. Our team knew that drama is good for TV. Sometimes people get along, sometimes they don't. It takes a minute for everything to fall apart, so we'll see what happens."
On Russell H's Manipulations:
"Russell H. and I are buddies. We hung out quite a bit while we were there. We had a good time with each other, laughing at all the people. He would say things to other people about me, but in the end he never trash talked. He knows how to play the game. Nobody else knows how to play as well as he does. And, in the end, it is a game."
On What's Next:
"I'm doing another drink list for a place in Santa Monica, but eventually I want to open my place. I want to open a rock-n-roll cocktail lounge. It's something that L.A.'s missing," says the "mixologist," who creates drinks menus for upscale L.A. eateries. "I don't want to do acting, but I'd do reality TV again. It's kind of cool to just play myself. And I'm really good at being myself."