K-Fat to Get 'Fit'?
Britney Spears' ex Kevin Federline is heading to VH1 to shed some excess baggage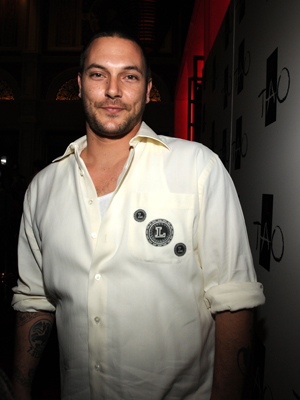 Apparently Britney Spears is not the only one feeling the pressure of the the public eye these days.
Her ex-husband, Kevin Federline, who split with the singer in 2006, has been plagued by tabloid tattling about his recent weight gain.
K-Fat, as the tabs have lovingly dubbed him, has definitely packed on the pounds post-split with Brit -- thanks to a reported lifestyle of cigarettes and vodka, apparently funded by the monthly $20K his ex-wife provides for the care of their two children, Jayden James and Sean Preston.
And that VH1 reality gig Federline's been talking up the last few months? It turns out the former back-up dancer is set to join the seventh season of VH1's weight-loss hit, "Celebrity Fit Club," which premieres February 14, 2010.
In fact, K-Fat, uh, K-Fed's
other
baby mama, Shar Jackson, got in on the action, telling one reporter she wasn't surprised by her ex's excess baggage. ""It's daddy weight! When you are a full time parent, sometimes you can't focus on you," she explained. "If gaining a few pounds is your only problem, life's not too bad!"
But apparently, Shar's got some time on her hands. She, too, will be joining the "Fit Club" cast in February. According to reports, other cast members on the seventh season of the VH1 reality hit will include former "Baywatch" babe Nicole Eggert and singer Bobby Brown.