Two Down on 'Dancing With the Stars'
Ashley Hamilton and Macy Gray head home
By Kate Mulcrone
Special to MSN TV
Actor-comedian Ashley Hamilton and singer Macy Gray were the first dancers to permanently exit stage right this season on "Dancing With the Stars."
Last Night on TV: Watch recaps | 5 for Fall: Q&A with Kelly Osbourne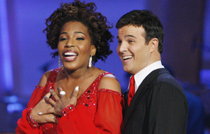 Ashley certainly had no flair for dancing, debonair though he may be. His foxtrot was stiff and off-balanced, and his waltz wasn't much better. He was a good sport, though, and I'm sure he'll be missed. As for Macy, the singer's non-dance-y dancing is hard to describe, but it certainly hit a chord with both the audience and the judges. Unfortunately this is a ballroom dancing competition. But Macy put it best herself: "Ballroom isn't my calling."
Superfans: "Dancing With the Stars" fan site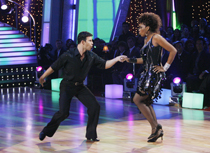 Photos: View the Season 9 contestants
Video: See "Dancing" clips and more
"DWTS" Message Boards: Sound off
Want to know how the remaining stars did this week? Here they are, in the order their names were called during the broadcast:

 Louie Vito
The professional snowboarder turned in a so-so foxtrot but surprised the judges with an elegant waltz. If Louie puts his mind to it, he could be good. Is he this season's Ty Murray?
Ladies' man Aaron cha-cha-cha-ed his way to the top of the leaderboard. He and Karina move really well together, and Aaron's got a lot of energy.

 Mark Dacascos
The "Iron Chef America" star danced a tongue-in-cheek cha-cha-cha and a charming waltz. He's likely to stick around for quite a while to come. 

The Ultimate Fighter confessed that he was more nervous dancing than he had been at any point in the last 15 years. Well, he's got plenty to be nervous about. His foxtrot was less than stellar, though his salsa was a bit of a pleasant surprise.

Donny had the audience at hello on Monday night with his witty, elegant foxtrot, and he earned the judges' respect with a scintillating salsa. He and Kym could go all the way.

Bruno said Tom was crazier than Sarah Palin. Well, it must have worked, because he's still here. Make no mistake: The former congressman cannot dance and should never, ever wear leopard print again. I admit that I'm more than a little curious to see what he does in the next round.

The former Cowboys wide receiver turned in a pretty good waltz in the relay, but his cha-cha-cha almost put the judges to sleep. Let's hope he picks up the pace next week. 

The Olympic gold medalist and her partner Alec Mazo danced a fast and furious salsa that was full of tricks. If Natalie can keep up this level of energy, she'll be one to beat.

Mya and Dmitry tied for second place after taking first in the cha-cha-cha relay, and their waltz was a crowd favorite, even though it bombed with the judges. Expect great things from this adorable pop star.

Grown-up child actress Melissa's prim and proper waltz left the judges cold, but her daring – and fun! – cha-cha-cha turned the tables. Clarissa (and Mark) could take it all!

She and Derek tore up the floor with a smoking salsa and won the foxtrot relay. They had the highest overall score from the judges, so they'll be the ones to beat going into week two.

The "Entourage" star's salsa wasn't the judges' favorite this week, but she did curry some favor during the relay round.  She and Maks are going to have to step it up if they want to stay in the game, though.

Wild child Kelly is a real breath of fresh air for this competition. Her beautiful Viennese waltz was Len's choice for tonight's encore. Her cha-cha-cha wasn't chopped liver, either. I can't wait to see what she does next week.

Supermodel-turned-entrepreneur Kathy doesn't have much of a flair for dancing. She and Tony turned in a lackluster salsa and an uninspiring foxtrot. Let's hope the fans are behind her, because the judges aren't.
The Scorecard
Who won the week: Joanna Krupa and Aaron Carter
Who need to shape up fast: Kathy Ireland and Tom Delay
"DWTS" Message Boards: Sound off
"Dancing With the Stars" airs Mondays at 8 p.m. ET/PT and Tuesdays at 9 p.m. ET/PT on ABC.