Quick Take: John Cho
The actor spills on "FlashForward," Trekkies and, yes, the next "Harold & Kumar" flick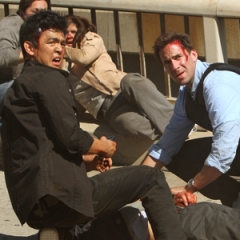 You know him best as Harold, the straight-laced stoner accountant in the hit "Harold & Kumar"  franchise.
But Korean-American actor John Cho's got plenty else keeping him busy these days. The new father plays Demitri Noh, an FBI agent trying to unravel a major pre-apocolyptic mystery on the new ABC drama "FlashForward," which debuted last week. We caught up with him to chat about the show, dealing with his "Star Trek" stardom and, yes, the next installment of the cult favorite "Harold & Kumar" series.
On "FlashForward": "I wasn't willing to go back to television as I had a couple of shows that went bust on me, and I wasn't keen on testing those waters again," says Cho, who's still mourning the loss of his never-aired drama "The Singles Table." "But this script is very compelling and I connected with Demetri's circumstances. On "Flash Forward," the world stops for a moment and everyone gets a vision of their future – only my character has no future. But he's engaged. And that presents a major challenge on how to deal with the information he thinks he's received? What do you do when you think you're going to die? As a husband and father, I could really relate."
On his Trekkie fans: "It's kind of crazy. Before 'Star Trek,' I was actually feeling really feeling sort of down about acting. I felt like I wasn't being challenged at all and I definitely wasn't interested in a lot of the scripts I was reading," says Cho, who plays Sulu in the remake. "But when I heard the words JJ Abrams and 'Star Trek' together, I knew this was something I could get excited about. It totally brought the passion back for me. And the fan reaction has been amazing. It used to be 'Harold & Kumar' fans coming up to me. But this has even made an impression on the kids on my block. They look at me, and I can just see that light saber fight running through their heads."
On "Harold & Kumar" Three: "I've been hearing about it, but there's nothing official yet. But I told them it's only worth doing if they can really make it something new and different this time around. I mean, yeah, the second one was certainly different, but I don't know if most people would say that was a good thing or not. So this time it's supposed to be 'A Very Harold & Kumar Christmas,' sort of like 'A Very Brady Christmas.' It should be fun, if it happens. Which it might, once Kal [Penn, who plays Kumar] is done with his stint in Washington next summer." 

Great show - do you think ABC can not kill it by giving it a better time slot?  Or will they do what thay usually do and put it on long hiatus until everybody forgets about the show, then cancel it when nobody finds it in the first 3 weeks?
In today's DVR world, mutiple different times like this show has been given (so far) is the way to go.
Are you sure you want to delete this comment?