'American Idol' Recap: Strong and Getting Stronger
Front-runners Crystal Bowersox and Lee Dewyze deliver the goods yet again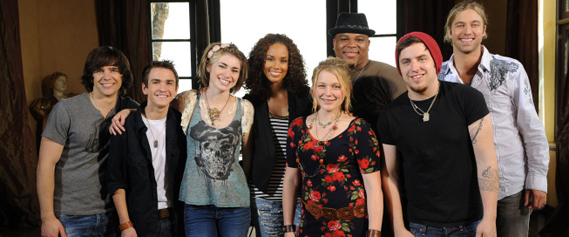 It seems there's just no stopping Crystal Bowersox. The 24-year-old Ohioan threw down another masterful performance Tuesday night on "American Idol," all but cementing her status as the singer to beat. And Lee Dewyze, with another strong effort himself, served notice that he's not conceding the contest just yet.
More: Watch "Idol" highlights | The best of "American Idol" | View the top 7
Under the guidance of guest mentor Alicia Keys, the remaining seven contestants performed songs of inspiration on the "Idol" stage. But for the most part, there wasn't much inspiration to be had from the mostly safe, perfunctory offerings. The only two standouts were Lee Dewyze, who reinvented a Simon and Garfunkel classic, and Crystal, who served up a Curtis Mayfield standard. Performing for the first time this season without an instrument, Crystal closed out the show with a poignant, emotional version of "People Get Ready." She actually sang the first verse a cappella (another first for this season), mixing elements of folk, rock and gospel in her moving interpretation. Crystal visibly choked up near the end of the number, breaking down in tears on the final note. The spontaneous outburst of emotion capped her mesmerizing turn on stage and provided the night's most memorable on-camera image.
So, the top of the ladder remains unchanged, folks: Crystal ahead, with Lee slightly behind. It's at the bottom of the ladder where things look rather murky. Here's a rundown of how the remaining contestants fared (in the order that they appeared):
Casey James kicked the night off in rockin' fashion with Fleetwood Mac's anthemic "Don't Stop." This week, the Texan kept his guitar plugged in and delivered a version that was pretty close to the original. The vocals were, again, soulful and bluesy. But, aside from a minor guitar solo mid-song, he didn't offer anything substantially different from what we've seen and heard the last couple of weeks. The judges were pleased, but clearly were left wanting more. Randy found Casey "good," but didn't think it was his "best performance." He pleaded, "Give me something else, something different." Ellen complimented Casey's guitar playing, finding little else to praise. She remarked, "I don't think anyone's going to be talking about that tomorrow." Kara thought the interpretation was a little too "jam band," adding, "You made yourself like everyone else tonight." And Simon branded the whole thing "lazy." Criticizing the song choice, he said, "That wasn't particularly inspiring. Zero emotion. No originality."

Lee Dewyze gets points for tackling Simon and Garfunkel's "The Boxer" and turning the melancholy standard into something uplifting and even lilting. With his customary acoustic guitar, Lee blended gospel, folk-rock and pop into his interpretation and even managed to keep his rocker edge. I have to admit, for the first time this season, Lee had me thinking about the Boss; there's just something about his no-nonsense, everyman appeal. More so than ever, Lee seems a lock to face off against Crystal in the finale. Randy declared, "I think that you are a great artist ready to make great music. Very nice job." Ellen praised the song choice as "beautiful" and called it his "best performance by far." Kara said, "I think you had [your moment] tonight," praising how "connected" he felt to the song." And Simon judged the whole thing "brilliant." He explained, "That was sincere, emotional and inspirational." 

Tim Urban may lack vocal versatility, especially compared to the remaining singers. But to his credit, he seems to understand his own strengths better than his fellow competitors do theirs. One thing's clear: Tim knows he sounds best singing slow-tempo, moody fare (like we saw from him last week). His version of "Better Days" by the Goo Goo Dolls sat right in his power zone. Teflon Tim is starting to feel more comfortable on stage. And this performance, though lacking standout musical moments, was one of his best. The judges were, nevertheless, stringent in their feedback. Likening the performance to karaoke, Randy felt it was just "OK." After comparing Tim to the "soup of the day," Ellen confessed, "I didn't like the soup." Kara didn't think it was his "best performance," faulting the "execution" of the song. And Simon? The Brit applauded Tim for showing improvement over the last few weeks, but pronounced this effort as "a little bit of a letdown." He explained, "This might have been a step too high."

Aaron Kelly didn't have a particularly convincing outing last week, and this week, sadly, despite a strong start, it seems much of the same. Ever ambitious, he chose R. Kelly's "I Believe I Can Fly," and it might have been just too much for him to handle. There were definitely moments where the 17-year-old sounded confident and vocally stable, but on the whole he seemed to be overwhelmed by the weight of the song and the bigness of the moment. You've got to wonder if this well-meaning, exceedingly earnest and likable teenager actually has enough star power to carry through to the next round. Whatever the case, the judges treated him respectfully. After commenting that Aaron "picked a giant song," Randy stated, "You definitely have pure vocal talent." Ellen said, in rather lame fashion, "I believe you can fly. You are on your way." Kara added, "Watching that was like taking off," noting that he did "hit it" by the end. And Simon was polite enough. He said, "You gave it your all." But he chided, "If I had heard that on the radio, I would have turned it off in 10 seconds." Trouble.

Someone – anyone -- needs to stage an intervention for Siobhan Magnus and get her back on track. Initially, this somewhat offbeat girl, with her daring onstage choices and vocal screams, seemed Adam Lambert redux. But the judges roughed her up a bit some weeks ago, and since then Siobhan just hasn't been the same. What was once quirky and charming has become  desperate and campy. What a poor decision to deliver "When You Believe" Tuesday night. I mean, it would have been hard for anyone to match the likes of Mariah and Whitney, let alone 20-year-old Siobhan. The Cape Codder tried her best and showed off some big pipes, but it just wasn't impressive or interesting compared to the original (it paled in comparison to Archuleta's version from two seasons ago). She needed a strong performance to reconnect with the judges. But this rather melodramatic interpretation, complete with a pretty strange-looking outfit, was just too weird. The judges were perplexed and underwhelmed. Randy uttered, "It was just OK for me, honestly." However, Ellen liked it. "That's just more confirmation why you're here," she stated. Kara thought that the offering was well-sung "technically," but she quickly added that it felt "dramatic," like something out of a musical. She continued, "I feel like I'd rather hang out with you than buy your record." And Simon said it was "off" and "all over the place."

Two weeks after escaping elimination, Michael Lynche continues to sing like it's his last turn on stage. This week, singing an impassioned version of Chad Kroeger's "Hero," Big Mike once again took up his acoustic guitar and threw down some smooth vocals. The song itself, not exactly what we've come to expect from this Ruben sound-alike, was a pleasant surprise. But the actual delivery of the song wasn't so convincing. The song just didn't seem a good fit. The judges, atypically concise because the show was already running late, offered only tepid praise. Randy initially "worried" about the song choice, but thought the performance "worked out." Ellen thought it was (wait for it) "great." As for Kara, it wasn't her "favorite performance." And Simon thought Big Mike sang well, but quipped that the song was about "Spider-Man," since it's from that movie's soundtrack. He added, "This didn't quite gel for me," also noting that Mike would likely stick around next week.

What more is there to say about Crystal Bowersox, who just seems to be growing with confidence every week? Her performance of "People Get Ready" was emotionally moving and musically gutsy. The well-known tune is one of the most inspiring we've heard this season, but it isn't anything complex. It takes some real vocal integrity to make the song soar, and Crystal was able to do just that. Choking up as she closed out the number, Crystal delivered what is likely to go down as one of this season's signature performances. Offering his own personal standing ovation, Randy yelled, "That is how you do it. That was unbelievable." Ellen commented, "You just get more and more beautiful. You get better and better." Kara gushed, "Thank you for taking a risk. You just schooled all those contestants." And Simon, unsurprisingly, was the most pleased. He said with relief, "That was inspirational. You sang it fantastically. It was in a completely different class." Folks, this thing is Crystal's to lose.
And now for the lists:
Top of their game: Crystal Bowersox and Lee Dewyze
Poised to pounce: Casey James
Meh: Michael Lynche and Siobhan Magnus
In trouble: Tim Urban and Aaron Kelly
Your turn now. What did you think of Tuesday night's performances? Who's likely to go?