Roland Emmerich: '2013' in 2013?
The film producer hopes to bring his post-Apocalyptic vision to a small screen near you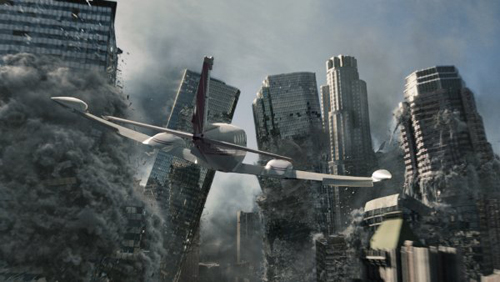 It's the end of the world as we know it!
His new disaster drama "2012" hasn't even hit theaters yet -- it opens Nov. 13 -- but already producer Roland Emmerich is in talks with studios about creating a TV version of the concept for 2013 -- assuming we're all still here, of course!
According to Entertainment Weekly, Emmerich reports that there's "plenty to do in a TV show" version of the movie, which stars John Cusack, Oliver Platt, Woody Harrelson and Thandie Newton. "2012" exec producer Mark Gordon -- who is also a producer on TV shows like "Grey's Anatomy" and "Private Practice" -- would have a hand in creating the post-Apocalyptic drama.
"The plan is that it is 2013 and it's about what happens after the disaster," Emmerich told Entertainment Weekly during the film's premiere on Tuesday. "It is about the resettling of Earth. That is very, very fascinating. The movie talks about the varied reactions people have in the face of disaster and who should survive and how we carry on and what parts of our culture do we save. The TV show could carry on all that."
Emmerich added that with Gordon on-board, the show should be an easy sell. "We have the luxury of having a producer on the film who is a big TV producer, Mark Gordon. We said to Mark, 'Why don't you do a TV show that picks up where the movie leaves off and call it '2013'?' I think it will focus on a group of people who survived but not on the boats … maybe they were on a piece of land that was spared or one that became an island in the process of the crust moving. There are so many possibilities of what they could do and I'd be excited to watch it."
As for placing the new show, Emmerich says he's already in talks with ABC for 2013 debut. And while Gordon wouldn't say yay or nay to that, he hinted to EW that ABC "will have an opening in their disaster-related programming after 'Lost' ends." ABC reps declined to comment on the speculation.

But Gordon has a strong track record -- and he sees the "2013" premise as solid. "I think people would be interested in this topic on a weekly basis," he explained. "There's hope for the world despite the magnitude of the 2012 disaster as seen in the film. After the movie, there are some people who survive and the question is how will these survivors build a new world and what will it look like. That might make an interesting TV series."
Hasn't the post apocalyptic show already been tried and failed with Jericho? While its an interesting concept I don't see longevity here with a series that revolves around a subject that most people are not comfortable even talking about much less watching each week on television. It really doesn't matter who is attached to the project.....I see one season or perhaps two and out.
Are you sure you want to delete this comment?