Josh Elliott Has Kidnapped My 'SportsCenter'
Nothing like a smug, hotshot anchor to mess with my morning TV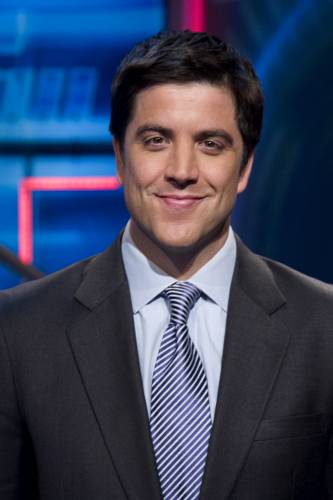 Josh Atashian/ESPN
This is unavoidably the New Yorker in me, but I never really trust Californians. Too much sun, fish tacos and high tide. Not enough sooty snow, belligerent mass-transit commuters and pre-Manifest Destiny hardship.
So it makes all too much sense that young, smarmy, super-handsome, ever-smirking "SportsCenter" anchor Josh Elliott is a UC-Santa Barbara grad. And maybe that West Coast bias explains why he's constantly focusing on my beloved Mets as a target for his belittling jabs, sarcastic asides and other assortment of cute little remarks that are utterly irrelevant to the actual highlights being recapped.
They do, however, epitomize his typical approach in the anchor seat, regardless of the team, athlete or topic being dissected. Elliott's chosen persona is a hideous manifestation of blog-era flippance, ESPN's own devolving standards for on-air decorum and Elliott's previous experience on loudmouth roundtable shows like "Around The Horn" and "Cold Pizza."
As you can see in the clip below, nothing is too sacred for Elliott's would-be witticisms (and these are the
top
plays... imagine his lack of mercy during the "Not Top 10" segment), which he seems all to certain are successfully bouyued by his beguiling charm and 21st century know-it-all-ness. The latter quality is, of course, what likely landed him the anchor's chair for ESPN's newly live a.m. broadcasts, as a purposeful contrast to the poised professionalism of his co-host,
Hannah Storm
. And—more to the point of what's making the once-dependable recap-cum-commentary program rapidly less engaging—a redundancy of drive-time radio's loathsome opposites-attract-audience radio format.
It's difficult to imagine, but Elliott actually makes you yearn for the halcyon days when smarmy loudmouths Craig Kilbon and Keith Olbermann once helmed the storied "SportsCenter" broadcast.