'Survivor: Samoa' Exit Interview: Yasmin Giles
The hairstylist-turned-actress vents about racist comments, laziness and bad hair days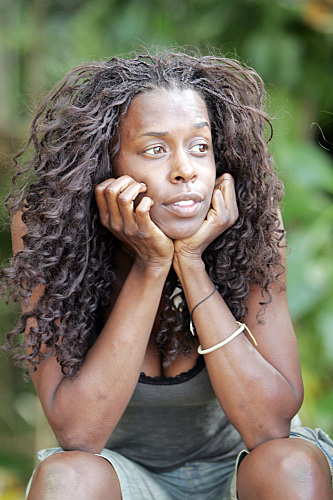 Yasmin Giles, a self-described "Sassy Yassy" from Detroit, was perhaps not well suited to spend thirty days in Samoa. When she wasn't complaining about the shoddy living conditions or being called lazy for not helping out around camp, she was the victim of cheap shots from resident redneck, Ben, who tackled her in a challenge and called her "ghetto trash." After saying she was ready to leave in last night's episode, she got her wish and was voted out at Tribal Council. But instead of bitterly sauntering out of camp, Yasmin strutted out in high heels with a big smile on her face. Sassy Yassy indeed. Here's her take on what happened on
"Survivor: Samoa."
On her exit from the show:
"It was the happiest day of my life. I smiled. I did the walk of shame in my high heels right out of Tribal Council. Emotionally, you can be a lot more drained than physically on this show, and it was my time to go."
On being called "ghetto trash" by Ben:
"I wasn't pissed at the time and I'm not pissed now. Half the things he said he said in confession and not to my face. And he couldn't even get my name right. My name is Yasmin, not Jasmine. Who was he talking about? All lies die when the truth comes to light. Ben ended up looking like an idiot. There's no excuse for the things he said."
On being portrayed as lazy: "
I wasn't lazy at all. Whenever anybody asked me to do something, I stepped up. They didn't show it on the show, but I cut down two trees with a machete. Sometimes by doing too much at camp, you can hinder yourself. 'Get rid of Shambo because she lost a chicken,' you know. I didn't want to put myself on the chopping block. Kelly wants to take an hour to crack a coconut and complain that I'm just standing around? Look, I had my forte and maybe mine wasn't cracking coconuts."
On complaining about the living conditions:
"My quote was, 'The hood is not the woods,' but I didn't even grow up in the hood. I grew up in a two-parent household and have never even tasted alcohol. I said that because it sounded good on TV. But I admit that the speech was pretty obnoxious."
On complaining about the food:
"When I got voted out, I was happy and I was hungry. I'm a vegetarian, but I almost went back to eating meat. I was like, 'I want a burger.'  I do eat fish, but we weren't catching any fish at camp, so I was done. I'm not eating the rat meat or the lizard meat. And keep those bugs away from me."
On maintaining her hair in the rainy Samoan climate:
"I ran a successful salon for 5 years with 30 employees, but oh my god, I think I spent the half the time with my hair matted. It was brutal."