'Lost' Recap: Ready, Set, Reset
The sixth season starts with a bang and never looks back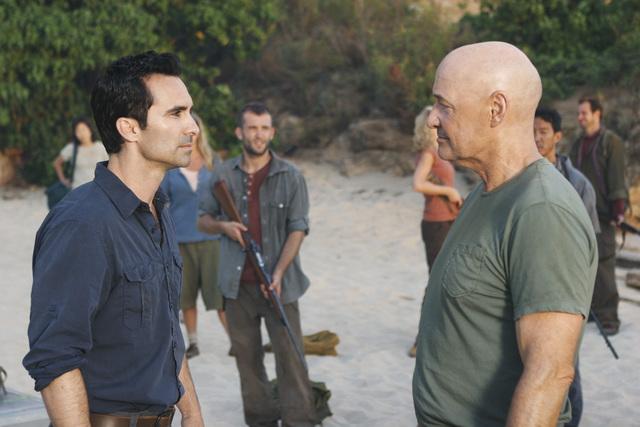 By Vinnie Penn
Special to MSN TV
Half an hour into the much-anticipated season premiere of the final season of ABC's "Lost," I was sporting the same expression as Jack: confused. Jack's jaw was on the floor for a good 45 minutes, like all of ours, really, a few episodes into season one.
Also: Last Night on TV | Related: Q&A: Michael Emerson
Hell, I was even confused during the recap (effectively narrated by Emmy-winner Michael Emerson), by the absence of Michael, his son Walt, Shannon and Boone, and even Mr. Eko and Ana Lucia. But the cast has become so sprawling there had to be some casualties in the recap. Besides, Boone showed up midway through hour one, where Oceanic flight 815 was either taking off all over again on September 22, 2004, and safely riding out the turbulence, or we were witnessing an alternate version of the original flight. Or ... I dunno ... William Shatner was on-board but unseen, staring out at some creature on the wing. Yes, Rod Serling woulda been proud of the 6th season premiere (the glimpse of the statue on the ocean floor screamed "Twilight Zone" and got my phone ringing off the hook; dare I say "Lost" causes almost as many phone calls as "American Idol" on voting night).
As for Ian Somerhalder's return as Boone, it was utterly and completely eclipsed by the return of the black smoke in what was easily the most exciting scene of hour one, followed immediately by the most ingenius: The black smoke was revealed to have a human form. Plus, it was the perfect actor (character?).
Now, let me take a moment to cop to something many of you will disagree with but that some may have been waiting for someone else to say first: I was not a fan of the time travel element introduced last season. It felt like filler, like time-buying, like life was good for the cast and crew filming in Hawaii. It also only succeeded in further convoluting an already convoluted storyline. And if the time travel element is utilized to provide closure to the series, as the end of hour one suggested, then I, for one, will be disappointed. A simple reset? That'd be no different than Bobby Ewing coming out of a season-long shower on "Dallas." Seriously.
Hour two begat at least one new location for the gang: Baggage claim. It was about as exciting as baggage claim, too, while on the island side -- as the back and forth is indeed back-- new characters were introduced, which is pretty much the LAST thing I wanted, or the show needs. If the show ever scores another Best Drama Emmy win, this time they're going to have to open the back doors at the Shrine Auditorium to fit all these folks on stage.
As for the new characters, the poor man's Jet Li, who drew his own blood and offered it into a mystical pond dotted by hourglasses, played out about as ridiculously as it was to just write that sentence. And "Lost" lost a major character at the end of the scene. Except for the fact that it didn't.
Jet Li's beatnik translator is equally laughable, and the entire kingdom thing veered dangerously close to jumping the shark territory. But, thankfully, an hour after the black smoke took a human form it returned to essentially introduce itself, while eulogizing its vessel to boot. The "smoke's" declaration of "I want to go home" was intense, a line uttered by probably every character on the series over the course of its run, yet never with such relevance to the storyline. It is a fantastic worm on a hook we've all loved for six years. I just hope it doesn't catch a shark.