Ultimate Fighter Down for the Count
Chuck Liddell eliminated from 'Dancing With the Stars'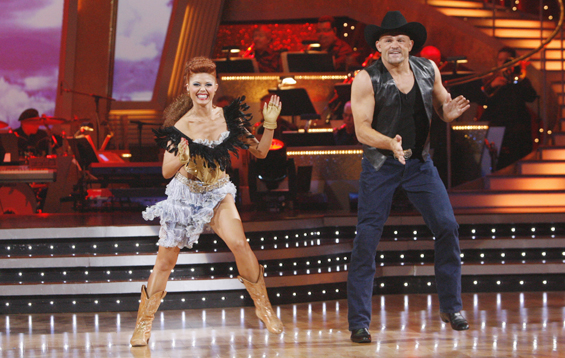 By Kate Mulcrone
Special to MSN TV
He certainly put in an effort, but Chuck Liddell has danced his last dance. The Ultimate Fighter was eliminated from "Dancing With the Stars" after turning in a less than thrilling two-step on Monday night. Ironically, this elimination comes just one week after Chuck's samba was chosen by the judges for an encore. Of course, they might have wanted to see his ridiculous rainbow puffed sleeves again!
Last Night on TV: Watch recaps | Photos: View the Season 9 gallery
Chuck will be missed. But, let's face it: He probably belongs in the ring, not on the dance floor. Want to know how your favorite celebrities fared this week with the two-step, the Charleston, the bolero and the lambada? Read on to see how it all went down.
Superfans: "Dancing With the Stars" fan site | Video: Watch "DWTS" clips and more
Here are our remaining contenders, in the order that their names were called:

Her lambada had her tied with Melissa for the top spot. It was fun and flirty, but also incredibly graceful. She's still the one to beat in this race.
Score: 28/30

Clarissa takes it all! Melissa's Charleston was the surprise of the week and left the judges just as impressed with the actress as the crowd has been all along. The judges loved it so much that they chose it for tonight's encore.
Score: 28/30

Her stage fright is officially over! Kelly's Charleston was flirty, fast and fun. I can't wait to see what she does next week.
Score: 23/30

Her graceful bolero was a nice encore to last week's amazing rumba. This Olympian is really becoming a contender!
Score: 24/30

She and Derek turned in a fast and furious lambada that had several audience members fanning themselves. Almost too hot for TV! The judges loved it nevertheless.
Score: 26/30

 Mark Dacascos
They say the third time's the charm, and Mark's two-step really caught the judges' attention. Let's hope he can keep his focus next week.
Score: 22/30

The bolero didn't do this NFL legend any favors. He just kind of stood there and lifted his arms up from time to time. Bruno compared his dancing to the economy: "Every week it's supposed to be getting better, but nothing happens." Ouch.
Score: 16/30

Donny and Kym turned in a good, but not great Charleston. Donny will need to work on his steps if he wants to go all the way in this competition.
Score: 24/30

Louie Vito
His two-step was more like a one-step. In a word, slooooow. The judges were certainly not impressed. It looks like Louie will be back to hitting the slopes any time now.
Score: 16/30
This week's lambada fell just as flat as last week's rumba. But Aaron managed to hold back the tears this time.
Score: 18/30
The Scorecard
Who won the week: Melissa Joan Hart and Mya
Who needs to step it up: Michael Irvin and Louie Vito
Sound off: "DWTS" message boards
"Dancing With the Stars" airs Mondays at 8 p.m. ET/PT and Tuesdays at 9 p.m. ET/PT on ABC.