'American Idol' Recap: Crystal Punch
Season-long favorite Crystal Bowersox delivers three knockout blows in the finale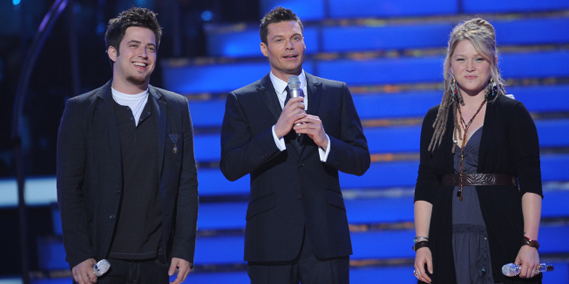 "American Idol" staged a three-round singing duel with its final performance episode Tuesday night. It wasn't even close. Crystal Bowersox and Lee DeWyze each performed three songs: a favorite from the season, a selection from executive producer Simon Fuller and a future single release. In convincing fashion, season-long favorite Crystal overpowered her nervous fellow finalist and won the night's most enthusiastic praise. Determined to snatch back momentum for herself, the single mother from Ohio delivered three standout performances with her self-assured and passionate vocals. Barring a huge upset, Crystal looks poised for a coronation Wednesday night.
More: Watch "Idol" highlights | Best and worst of Season 9 | View the Season 9 gallery
On paper, the two finalists are markedly similar: Both emerged from the Chicago auditions, have performed regularly with their acoustic guitars and are 24-years old. But Tuesday night's performances demonstrated huge contrasts. While Lee rolled into the finals with a bump in confidence and popularity with the judges and viewers in recent weeks, he seemed surprisingly off his game in the finale. As if he were overwhelmed by the moment, his onstage appearances Tuesday night were cautious and lacked fire. Crystal, on the other hand, roared out of the gate and seemed eager to grab the spotlight. Intense and highly emotional, she wowed the judges with each of her songs. More importantly, she seemed to persuade Simon, whose final pronouncements on the judges' table Tuesday night skewed in favor of Crystal.
"American Idol" voters are an unpredictable bunch, so Lee could very well still pull this out. But all signs point to "Idol" nation crowning a female winner for the first time since Season 6. Stay tuned.
In the meantime, here's how our two finalists fared (in the order that they appeared):
Lee DeWyze kicked off the proceedings with Simon and Garfunkel's "The Boxer," a song he performed during top seven week. The choice was frankly a bit of a surprise, since it wasn't (in my opinion, at least) one of his standout efforts this season. This particular rendition wasn't one of his best either. The vocals were definitely more confident (and less pitchy than before), but the whole performance lacked urgency and oomph. You would think that Lee would have picked something with a little more of a rocker edge for an opening gambit. The judges liked what they heard, but clearly wanted something with more intensity. Randy said it was "a great way to start it off," but encouraged Lee to "get some more energy going." Always a fan, Ellen commented, "I think you did that better than you did the first time." Kara was more in line with Randy, noting, "You've got to punch harder." She, however, did praise how "connected" Lee was to the song. "It was very believable," she explained. Simon was nonplussed. "I would expect a lot more passion," he said. "That was a kiss on the cheek when I want a kiss on the lips. It's got to be a bit more than that."

Crystal Bowersox responded with "Me and Bobby McGee." When Crystal first performed this during top 11 week, fans had already pegged her as a Janis sound-alike. And that rendition scored well with the audience and the judges, who saw in the song a ready vehicle for the hippie rocker's folksy guitar act. This rendition was even better and stood in stark contrast to Lee's opening number. While he was somewhat subdued and contemplative, Crystal was fiery. Her vocal spunk seemed to excite the judges, who seemed eager for more of a duel. Thinking initially that the song had started off too slowly, Randy eventually admitted, "You picked it up." In fact, he said, "I thought it was dope, dude." Ellen found it all "stunning," remarking, "You are so compelling on stage." Kara offered, "I loved it when you first did it and I loved it tonight. You have fire in your belly." And Simon was summarily pleased. He declared, "This is you back on your best. That was terrific."

Lee returned to the stage to sing "Everybody Hurts" by R.E.M. However, this version wasn't as dirge-like as the original. Strumming his acoustic guitar and buttressed by a group of backing singers, Lee introduced a little bit of gospel into the song (a strategy that has worked well for him in the past). This arrangement wasn't quite the showstopper it needed to be, but it was a definite improvement from his first offering and allowed him to get his sea legs. Still, the judges were impatient, clearly wanting Lee to show more fire. Said Randy, "I could feel the Lee that I love. It was a lot better." Ellen still felt Lee played things too cautiously on stage, noting, "You could feel everyone get excited, then you pulled back." Kara admitted, "It wasn't a perfect vocal," politely adding that the performance was "accessible." Simon thought the song choice was "brilliant," but noted that Lee "went a little off melody at parts." Trying to pump Lee up, he said, "You're nervous." Regarding the upcoming final song, he commanded, "I want a 10 out of 10 because you're capable of it."

Chucking the guitar and opting for evening attire, Crystal served up Alannah Myles' "Black Velvet." Smoky, bluesy and all sorts of earthy, the song was a perfect match. Crystal was up to the challenge, delivering vocals that were gutsy, sultry and full of attitude. It was vintage stuff from a performer who just hasn't had a bad outing this season. The judges sensed that Crystal had found her mojo again. Randy yelled, "This is what I fell in love with from day one. That was hot." Ellen offered up her own personal standing ovation, acknowledging, "That was fantastic." A surprisingly pithy Kara commented, "You want it. You can tell. That's what tonight is all about." And Simon confessed, "I'm almost allergic to that song because I've heard that so many times in auditions." But he quickly added, "You took that song and you absolutely nailed it. I'm very impressed."

For his final turn on stage, Lee performed U2's "Beautiful Day." This version, presented as a rock anthem complete with orchestration and back-up singers, was epic in proportion. But the shy, somewhat reserved Lee seemed to have a hard time (at least, initially) asserting himself. By song's end, as he planted himself firmly on the stage behind the mic, Lee finally hit his vocal stride and was able to deliver some stirring notes. But, you had to wonder whether it took him too long to get there. Simon was right: Lee did appear nervous. It makes you wonder what Lee would have been able to do with just one more try on stage. Randy said, "Good on you." He applauded Lee's "good strong rock voice." Ellen remarked, "I'm so proud of you. You did a great job." Kara noted, "I think you got swallowed up a bit in that song." However, she did say, "You've grown the most on this show. You deserve to be here tonight." Simon praised Lee, but sounded almost apologetic in his tone. "You made the most of it," he noted. "This is what this competition was designed for. You've worked hard and remained a nice person throughout. I genuinely wish the best for you."

To finish up the night, Crystal sang "Up to the Mountain" by Patty Griffin. It was another perfect musical match for the Crystal, who clearly showed that she has a solid grasp of her own vocal strengths. This song was even better than her second offering and was arguably her best of the season. Crystal was emotional, poignant, defiant and uplifting all at the same time. Like her version of "Long As I Can See the Light" from earlier this season, this effort was tinged with gospel-like touches. And as with her "People Get Ready" from top seven week, Crystal got emotional toward song's end. The performance was surely an exclamation point to what has been a pretty strong "Idol" run. Randy was left to say that it was an "amazing song by an amazing singer." He commented, "That was incredible." Ellen pronounced, "You are in a league of your own. You have a beautiful voice. You're just so, so good." Kara called it "amazing," explaining, "You were completely emotionally invested in that song unlike any other night." And Simon, in the final judging critique of his "Idol" career, admitted, "That was by far the best performance of the night. That was outstanding."
And now for the scorecard:
Round 1: Crystal
Round 2: Crystal
Round 3: Crystal
It's time for you to chime in. What did you think of Tuesday night's performances? Do you agree that Crystal won the night?