Capt. Lou Ascends To That Big Wrestling Ring In The Sky
A look back at some of the WWF superstar's lesser-known TV works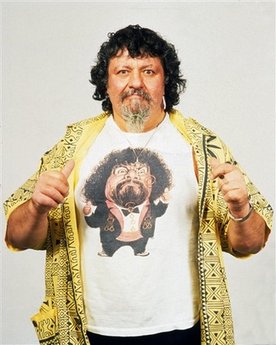 Captain Lou Albano
, the '80s wrestling legend, died in his home in Westchester County, New York, today of natural causes. He was 76. Best known for his WWF showmanship, rubber band cheek piercings and weird fatherly relationship with Cyndi Lauper, Lou also branched out into children's television shows in the '80s and '90s.
In 1985's "Hulk Hogan's Rock 'n' Wrestling," Captain Lou was part of a Saturday morning cartoon roster that included Rowdy Roddy Piper, Hillbilly Jim, The Iron Sheik, The Junkyard Dog and Andre the Giant. Unfortunately, Lou only appeared in animated form and was voiced by another actor. (Fun Fact: Hulk Hogan was voiced by Brad Garrett!). But even as a poorly-animated cartoon character, the Captain was larger than life. In fact, his overeating was a reliable source of comic relief, as in this episode called "Captain Lou's Crash Diet" (which I own on VHS, by the way).
In 1989, he returned to the airwaves on a cartoon series, "The Super Mario Brothers Super Show," as the live-action Mario. The wraparound scenes in the Mario Brothers' apartment with Lou as Mario and actor Danny Wells as Luigi were pretty forgettable, mainly serving as filler between the short cartoons. But the theme song to the show, "Do the Mario," sung by Albano himself, will get in your head and stay there.
In honor of Captain Lou Albano, let's all do the Mario one last time. Rest in peace.