Why Won't Kelsey Grammer Go Away?
With the predictable 'Hank,' the former 'Cheers' star has finally overstayed his welcome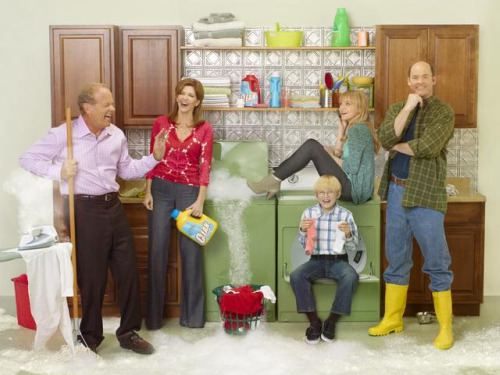 The above is an actual promotional still from
"Hank,"
a show that, if you didn't know any better, could pass for a short-lived family sitcom from the '80s. But no, it's from 2009, and it premiered earlier tonight as part of ABC's "Comedy Wednesday" lineup.
The familiar premise - high-powered business man loses everything and is forced to start over - is part of the problem. In a plot point that was clearly shoehorned in to make the show seem more topical, the lead character, Hank, gets fired from his powerful Manhattan job due to the economic meltdown. All the standard sitcom archetypes are there: the nerdy son, the cell phone obsessed teenage daughter, the sassy (but still super hot) wife, and the well-intentioned but misguided husband.
But more than anything, the staleness of this sitcom can be blamed on
Kelsey Grammer
, a man who has been on TV more or less constantly since 1982. Don't get me wrong, Grammer is a fine actor with plenty of comedic chops for the small screen. But after 27 years of Kelsey Grammer on TV, people are just tired of seeing his face in their living rooms.
As Dr. Frasier Crane on both
"Cheers"
and
"Frasier,"
Grammer tied the record for longest-running character played by the same actor on prime time (the other was James Arness' Marshal Matt Dillon on
"Gunsmoke"
). I don't care if you're Marlon Brando--if you play the same character for twenty years, you're going to wear out your welcome.
Grammer's non-Frasier forays into TV have left little to be desired as well. Although
"Back To You"
wasn't offensive, it certainly wasn't breaking new ground. And there's no excuse for
"Kelsey Grammer Presents: The Sketch Show"
or the Grammer-produced
"Girlfriends"
on the CW.
Kelsey, you had a good run, but it's over. Time to hang it up. Enjoy your lovely, Architectural Digest-featured home in Maui and your lovely Playboy lingerie model wife, but please stay away from my TV. And while you're at it, take David Alan Grier with you.