'Glee' Scoop
Mad About Madge, Hot Hook-ups -- and J.Lo as a Lunch Lady?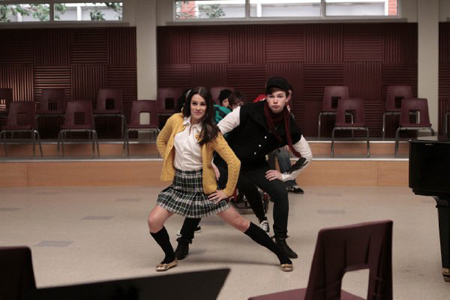 On the heels of last night's "Glee" Golden Globes victory -- gotta love a show where the creator dedicates a major international award to "anybody and everybody who got a wedgie in high school" -- comes some super-fun scoop about the upcoming back nine, which premiere April 13.
EW's Michael Ausiello got some inside gossip while chatting up the show's creator at the Globes last night.
First things first: the cast goes mad for Madge in a Madonna-themed episode that will feature ten -- yes ten! -- songs by the Material Mom. "It's big… huge. We're shooting it now," Murphy explained. "We adore her and worship her, so when I'm directing, I'm always like, 'Do it for Madonna.'" According to the Internets, the line-up goes old-school Madonna, with hits "Crazy For You," "Like A Virgin," and, of course, "Vogue." But lest you think Kurt (Chris Colfer) will be the one doing the Vogue-ing, Ausiello spills that he expects it to be Sue Sylvester (Jane Lynch).
Secondly, there's romance a-brewing. One of the
three new "Glee" stars
that FOX hopes to find via open auditions will be Kurt's new boy toy. Reeeor! "[A boyfriend for Kurt is] one of the three roles that we're adding. And we're going to make them a power couple. We're not going to do the whole hiding in the shadows thing. We're going to make them popular, and out and proud and glamorous. Like prom king and king. We're doing the
opposite
of what's been done." Kurt wouldn't have it any other way.
But that's not the only love story to watch for. Puck (Mark Salling) and Rachel (Lea Michele) are about to get their groove on -- again! "I was really surprised [viewers responded so favorably to that pairing]," Murphy told Ausiello. "I thought people would find her to be far too irritating for him. But by the time [we heard that feedback], we had already shot the first 13 [episodes]. But I was like, 'I'm going to get them together in some way.' So we just finished [writing] a special episode where they are together, and they have two numbers together. It's episode 4, 'Bad Reputation.'"
And finally, we'll be seeing stars big time in the next nine. You already know that
"Wicked" alumni
Kristin Chenoweth and Idina Menzel will be appearing, but Murphy confirmed that Olivia Newton-John will also be visiting, singing her hit "Let's Get Physical," with Sue Sylvester. But that's not all -- he's in talks with Jennifer Lopez. But don't expect him to give her the diva treatment. "Jennifer Lopez wants to do the show, so I'm going to meet with her," Murphy said. "But I don't want to stunt-cast too much, because I think the [musical] numbers are already so extravagant. If I do Jennifer, I would want her to be, like, a lunch lady." Now there's a reason to tune in!