10 Awesome Things Leonard Nimoy Said
The man behind the mysterious William Bell talks about his return to 'Fringe'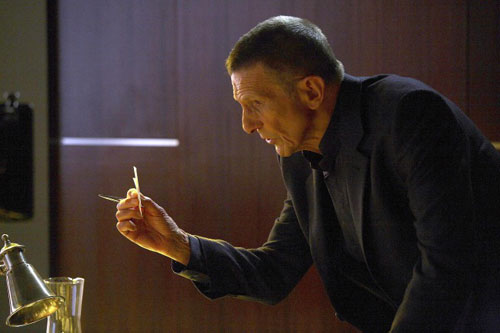 In this week's episode of "Fringe," the mysterious William Bell, played by sci-fi legend Leonard Nimoy, returns to the series to answer some long-awaited questions about his role as the founder and chairman of Massive Dynamic and former lab parter to Dr. Walter Bishop (John Noble). We last saw Bell during the Season 1 finale, where he greeted Olivia (Anna Torv) inside the South Tower of the World Trade Center in some kind of weird parallel universe. Nimoy said he'd be filming another episode in a few weeks, but that his participation beyond that was unknown. These days, Nimoy spends most of his time working on his photography, a field he has excelled in as much as acting. The 78-year-old actor chatted with writers during a conference call recently to talk "Fringe," "Star Trek" and the current state of sci-fi.
On why he took the role on 'Fringe': "The character that I was offered was potentially a very intriguing and controversial and fascinating character, very inviting for an actor. We had some interesting and intense conversations about what he could be."
On when Bell and Walter Bishop, his former lab partner, would face-off: "It's unpredictable at the moment. In the episode, the scene in between myself and Olivia, I think we will learn a lot more than we have known in the past about what their relationship is all about and what William Bell's intentions are, or at least we will be told what his intentions are.  We're not really quite sure that everything that he says is accurate or true."
On the current state of sci-fi: "Well, I'm concerned about the positioning of story in terms of importance.  When I see a lot of explosions and a lot of chases, I'm not terribly impressed.  I think there are three terribly important elements that must be given a priority position in science fiction as well as in any other kind of drama. The first is story, the second is story, and the third is story. Story, story, story, story, story. If the story is compelling and interesting, I think all the rest will find its place."

On whether or not he is a techie: "I use a computer. I don't know if that qualifies me as a techie but I'm pretty good on a computer."
On returning to acting after so many years away: "I did not expect to, frankly, be acting so much at this time in my life. My concentration was on my photography, but I'm having a wonderful time doing it."
On the latest 'Star Trek' film: "The 'Star Trek' movie was a joy to do.  I admire the production team that made the film.  I admire the new cast.  Zachary Quinto I thought was a great choice for the new Spock, and it was a pleasure to work with him and with all the other people on the project."
On having had roles in so many sci-fi projects over the years: "Well, it's a good thing if you can find your niche as an actor and be able to support a family.  Very early on -- I'm talking about many, many years ago, probably 1950 or '51 -- I acted in my first science fiction project, and I have acted in science fiction over the years ever since. The first one was probably not terribly well known.  I thought it was going to rocket me to stardom, if you'll pardon the expression. It didn't quite work. It was a great project called "Zombies of the Stratosphere," and I was the third of a group of zombies that came to earth to take over earth's orbit.  It's funny, as I think about it now, but it was a way of making a living. And science fiction has seemed to be a fertile ground for the kind of work that I do, the kind of presence that I offer. I'm grateful for it. I'm grateful for the niche that science fiction has given me."
On whether 'Fringe' will include a second William Bell in the present: "I don't think I can really answer that question very specifically right now. I think the most important thing is that we will get a sense of what his relationship is with Olivia. It's very intriguing and very intense moments that take place tomorrow night, and the rest remains to be seen."
On whether he'll appear in the next 'Star Trek' film: "I frankly doubt that I will be called upon again. I think I was useful in the last film to help bridge between the original characters, the original actors, and the new cast. They have a wonderful new cast in place, and I'm sure they'll move ahead with them. I don't see, at the moment, why they would need me in the next film, although, if they called me, I'd be happy to have a conversation about it."
On retirement: "I think about myself as like an ocean liner that's been going full speed for a long distance and the captain pulls the throttle back all the way to stop, but the ship doesn't stop immediately, does it?  It has its own momentum and it keeps on going, and I'm very flattered that people are still finding me useful. I try to pick my spots so that I have a balance between the work and my personal life, which I enjoy very much. I don't know that I would actually any longer say, 'No, I'm going to stop ten, twelve, fifteen months or two years from now.' I don't know. I still feel strong and healthy and active, and as long as there's interesting work to do, I'll probably keep on doing it."

"Fringe" airs Thursdays at 9 p.m. ET/PT on FOX