So Funny I Forgot To Laugh
Pee-Wee Herman's Rare Talk Show Appearance Makes For Some Awkward TV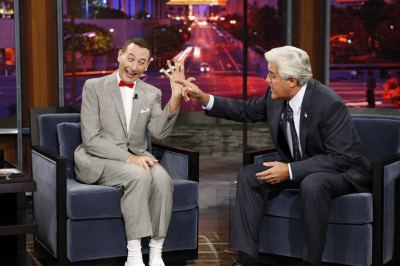 What just happened on
"The Jay Leno Show"
?
Paul Ruebens, the genius behind
"Pee-Wee's Playhouse,"
"Pee-Wee's Big Adventure" and countless memorable appearances on "Late Night" in the 1980s just completely laid an egg on Leno's show, calling into question everything I've come to love about Pee-Wee Herman.
The appearance opened up strongly. Jay asked what was new and Pee-Wee, who didn't look a day older that his "Playhouse" days, held up his hand to show what appeared to be a wedding band. "It's an abstinence ring," he said.
But when the meat of the interview began, Pee-Wee launched into a long series of stories about wanting to get into show business as a kid. It was unclear whether these were real stories from Paul Ruebens' childhood or bits of fiction from the Pee-Wee lore. Either way, they weren't very funny. And doesn't talking about Pee-Wee's childhood sort of negate the idea that he's a man-child?
In the second part of the appearance, Pee-Wee offered to make Jay a salad from a salad bar that had been conveniently installed onstage. This seemed like a promising premise - Pee-Wee and Arsenio Hall once ate bowls of cereal together on "The Arsenio Hall Show" to hilarious results - but the bit went nowhere.
As far as I could tell, the idea was that Jay didn't like salads so Pee-Wee offered him cookies and French fries at the end. I kept hoping Kevin Eubanks and the band would strike up "Tequila" and rescue the sinking ship, but it was not to be.
As Ruebens prepares to launch a new Pee-Wee Herman stage show in Los Angeles in November, I can only offer these words of encouragement: I know you are funnier than your were on Leno, I know you are capable of bringing Pee-Wee back to his former glory, I know you are, but what am I?