'DWTS' Recap: Mya, Oh My!
Pop stars Mya and Aaron Carter top the charts
By Kate Mulcrone
Special to MSN TV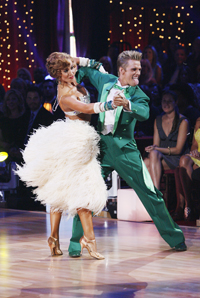 This week our stars danced the jive, the quickstep and the tango on "Dancing With the Stars." Len had to take a week off. So, considerably less grumpy Australian director/choreographer Baz Luhrmann sat in. Hey, sometimes change is good.
Last Night on TV: Watch recaps 
Photos: View the Season 9 contestants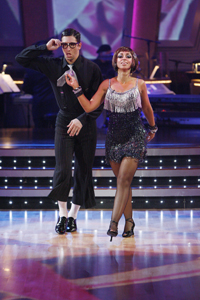 Mya absolutely dazzled the judges with her jive, and Aaron Carter turned in another command performance with his quickstep. Donny Osmond took the bronze with a lot of flair… and Tom DeLay nearly dropped his partner.
Superfans: "Dancing With the Stars" fan site 
Video: See "DWTS" clips and more
Sound off: "DWTS" message boards
Here's a complete rundown of the stars' performances and their scores:

She and Derek tore up the floor with a smoking salsa and won the foxtrot relay last week, but this week's jive was rather ho-hum. Joanna continues to bring a lot of energy to the stage, but something was just a little bit off this time around. Let's hope she gets her groove back next week.
Score: 20/30

Alec and his Lady Olympian scored straight 7s with a fun, flirty quickstep. Natalie looked like she was getting a little bit more comfortable out on the floor. Last week's salsa was impressive, but this much trickier dance really showed her mettle. If you're looking for someone to break out of the middle of the pack, look no further.
Score: 21/30

It takes two to tango. And it takes an Ultimate Fighter to make a tango look completely, totally badass. This is a dance that owes almost as much to attitude as it does to footwork. Since Len was conspicuously absent tonight, the judges felt free to shower Chuck with praise, not censure. The audience loved it, too. Chuck Liddell, official dark horse!
Score: 19/30

I was a little worried when I saw the Minnie Mouse costume, but squeaky clean Melissa got a little sexy with this jive. (Though, seriously, Eskimo kisses are a no-go!) She and Mark looked like they were having a great time out on the floor; the judges sat up and took notice.
Score: 19/30

Dancing the quickstep, Michael was all smiles and stood straight and tall. The footwork wasn't all there, but it was a pretty astounding feat, especially considering last week's cha-cha-clunk. Let's just hope it was good enough to keep him around.
Score: 20/30

The "Entourage" star joked that her love-hate relationship with her partner Maks was perfect for the tango. Well, it was no joke: The routine was dramatic, passionate and straight to the point. The technique wasn't perfect, but we're still early in the competition, folks.
Score: 21/30

 Louie Vito
Chelsie and Louie turned in a high-stepping, frenetic jive. They were really in tune during rehearsals, but Louie had a little trouble keeping up with his partner during the first half of the routine.
Score: 19/30
This ladies' man has definitely laid off sweet-talking his partner. He and Karina exchanged some harsh words during rehearsals. Their quickstep was fresh and exciting, though I found the Muppet theme terrifying. Hey, some people are afraid of clowns! The backstage tension had absolutely no effect on Aaron and Karina's onstage composure. They were, in a word, fantastic.
Score: 27/30

Louis and Kelly's tango was a real risk; it was fast, pop-like and downright friendly compared to the other tangos we saw tonight. I'll say this: It sure didn't look easy! I kept my eyes glued to Kelly's feet, and I did see a couple of missteps. I think I even saw her come down on Louis' foot at one point. Hopefully, last week's fantastic performance will keep the votes pouring in this week.
Score: 19/30

Kathy and Tony were almost eliminated last week, so the notoriously tricky quickstep seemed like a strange choice for this week's competition. The costumes were also bizarrely, grotesquely ugly. But their attire still didn't distract me from the fact that their quickstep was utterly lacking in quickness and rhythm and… danciness. I can't think of a single good thing to say about it.
Score: 18/30

 Mark Dacascos
You know what makes your quickstep look awesome even though you fall down at the beginning? Dancing right after Kathy Ireland. In all seriousness, Mark and Lacey were great. He has poise, grace and dedication. She has a way with the quickstep. Remember, this is the woman who coached Steve-O much further through the ranks last season than anyone expected. And it really showed tonight.
Score: 21/30

This unconventional jive was absolutely magnificent. It was spirited, fun and way beyond agile. Mya really has a gift for dancing: She's completely comfortable and yet completely focused. The judges were overcome. Bruno said it was like seeing Josephine Baker and Clark Kent together on the dance floor.
Score: 27/30

Cheryl Burke could probably tango with a mannequin and impress the judges, but I have to give Tom his due: He held his own. Well, until he almost dropped her. The judges talked nice and scored hard. It's up to the fans at this point.
Score: 18/30

Kym and Donny turned in a clever and remarkably limber jive. Some of our celebs are content to let their partners do the heavy lifting, but not Donny. He really gave it his all … and he nailed it! Last week the judges criticized him for being all style and no substance, but this week they did nothing but sing his praises. But did the crowd like it? You bet. Donnymania rages on.
Score: 25/30
The Scorecard
Who won the judges: Mya and Aaron Carter
Who didn't cut it:  Tom DeLay and Kathy Ireland
Who won the audience: Melissa Joan Hart and Donny Osmond
Sound off: "DWTS" message boards
"Dancing With the Stars" airs Mondays at 8 p.m. ET/PT and Tuesdays at 9 p.m. ET/PT on ABC.