Hey 'True Blood' Fans...
The Vampire Diaries might just fill the hole the HBO series left in your world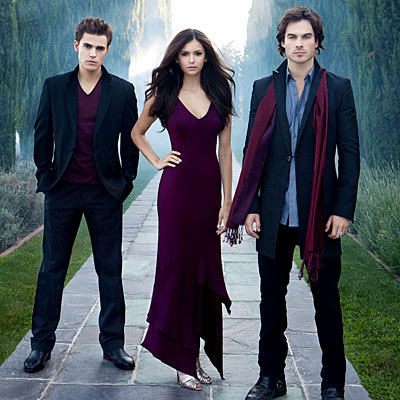 Suffering from "True Blood" withdrawal?
Then check out the new CW hit (yup, it's official!) "Vampire Diaries."
The campy drama -- based on the more than a decade-old trilogy by teen novelist L.J. Smith, which hit the NY Times' bestseller list post-"Twilight" -- centers on two bloodsucking brothers, Damon (the evil one) and Stefan (the tortured one), who fall for a striking, recently-orphaned high school junior, Elena Gilbert, in their original hometown, the misty Mystic Falls.
Turns out the the sweet-but-feisty Elena is a doppleganger for a vampire both bloodsuckers were enamored with some centuries ago. As they battle it out for the affections of Elena, the vampires wreak havoc on the town -- there's a new, "unexplained" murder each day -- while doing the whole high school football and dances thing.
The CW has built this show on what it knows: gorgeous young things (Ian Somerhalder and Paul Wesley play the vampires, while Nina Dobrev plays Elena), love triangle tension, and high drama -- this time in the former of vampires (and if they stick to the books, eventually witches and werewolves, too). All this is entrusted in the capable hands of Kevin Williamson, who, with the successes of "Dawson's Creek" and the "Scream" series, surely knows his way around a teen drama. Plus, Paul Wesley as Stefan offers up traces of the gallant Edward Cullen, while Ian Somerhalder, as bad bloodsucker Damon, definitely knows how to work a smirk.
And the CW is clearly banking on the current obsession with all things vampiric -- based on the success of "True Blood" and "Twilight," naturally -- to propel this somewhat formulaic teen drama to the next level. Luckily, it's working.
While "Vampire Diaries" lacks the bite of the HBO hit, it's well on its way to becoming a CW staple. In fact, the first episode of the show garnered 4.8 million viewers, making it the best-rated series premiere for the network yet (beating out the premieres of "90210" and the new, still-struggling "Melrose Place" reboot). Based on the ratings success of the first two episodes, the network has already ordered up an additional nine hours.
Be forewarned: this isn't Alan Ball at work here. There are no maenads, there's no Lafayette, and bad boy Daman could learn a lesson or ten from Eric. But for frothy, campy fun in the meantime, "Vampire Diaries" is certainly worth a nibble. You can check out the next episode tonight at 8 p.m. EST on the CW.