'Gossip Girl' Threesome Alert!
In a sure-fire ratings ploy, 'Gossip Girl' does a menage a trois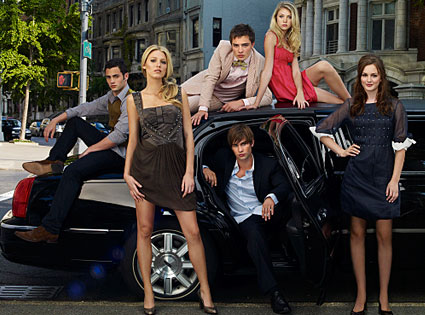 Apparently, "Gossip Girl" thinks three's company.
In what has to be a down-and-dirty ratings ploy -- after all, the series has already lost nearly one million vieweers since the season premiere --  the CW
leaked word
of a cozy threesome scheduled for the steamy Nov. 9 episode of its racy show about Upper East Side teens. Just in time for sweeps, Entertainment Weekly's Michael Ausiello is reporting a romp between three of the sudsy drama's major players.
Sadly, he's not naming names, although the smart money's on the idea that feisty-but-buttoned up Blair Waldorf (Leighton Meester) and her ever-prowlin' boyfriend Chuck Bass would be involved. After all, a kiss between Ed Westwick's Bass and gay NYU grad administrator Josh Ellis (played by Neal Bledsoe, whom you'll recognize from "CSI: NY" and "Guiding Light") has already been confirmed by the powers that be.
If Chuck does start exploring his perhaps bisexuality, it will be an homage to the smash teen tome series that the show is based on -- in the books, Chuck frequently goes both ways.
But then again, maybe sexy Serena van der Woodsen (Blake Lively) or new girl Olivia -- played by guest star Hilary Duff -- might get in on the action.
Will "Gossip Girls" racy romp have you tuning in?