All Hail Heather!
Locklear's Strategic Comeback Equals a Ratings Boost for the Flailing 'Melrose Place'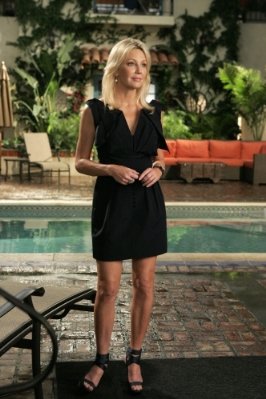 Looks like the CW's scheming was successful.
The strategic return yesterday of original "Melrose Place" fan favorite Heather Locklear, who played conniving Amanda Woodward, has proven fruitful for the flailing soap, which has been struggling to get a ratings foothold since it premiered in September.
Locklear's
much-hyped return
garnered the show its best overall numbers since its October 6th airing, but also pulled in more impressive figures in key demographics like women 18 to 34 and women 18 to 49 -- plus an executive-pleasing increase of 20 percent in overall viewership. The better to sell Clairol ads with, you know?
Still to be seen is how well Amanda's audience-enticing return maintains the bolstered viewership. If Locklear manages to pull off a ratings increase for the rest of the season, it might just save the "Melrose" reboot from being killed off after its first season. And it wouldn't be the first time Locklear's pulled off such a feat. After all, that's exactly why she joined the cast of the original "Melrose" in the first place.
Are you sure you want to delete this comment?