'Jon and Kate' Split Is Official
After months of tab-worthy bickering, the estranged pair's divorce is official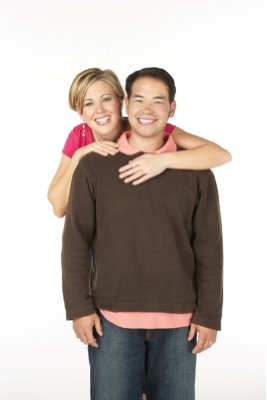 Remember these smiling faces? Yeah, we can hardly recall them either. That's because in the six months since announcing their split, Jon and Kate Gosselin have done nothing but publicly
bitch and bicker
to the press about each other -- at the expense of their hit TLC reality show "Jon and Kate Plus 8," not to mention the happy-go-lucky brood they were once raising together.
But as of today, it's official. After ten years of marriage -- several of them televised -- Jon and Kate Gosselin are divorced, a full six months after filing the paperwork. 
"I am very relieved that our divorce has been finalized, and I look forward to the New Year, focusing on the children," Kate said in a statement. "On behalf of myself and my legal team, I want to express my deep appreciation to the Judge and his staff, as well as to the arbitrator, for resolving this case. This has been a challenging transition for all of us, but I am confident that we will move ahead with the important task of restructuring our lives."
Her officially ex-husband has yet to comment on the announcement, which was made at mid-day today, and it's very likely he'll be unable to. With an injunction from TLC in effect as of last Thursday, Jon has been court-ordered by a judge to stop making media appearances until further notice.
Kate, meanwhile, may be
returning to a small screen
near you with a new show in the very near future.