First look at 'Ripper Street'
BBC America releases three-minute teaser of new drama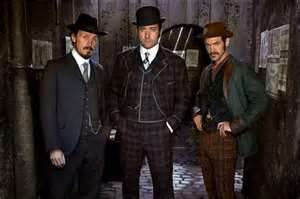 BBC America's new drama, "Ripper Street," is a police procedural with a twist.
Set in London's East End in 1889, the series deftly explores the city and its crimes during the aftermath of the "Jack the Ripper" murders.
Bing: More on 'Ripper Street'  |  Matthew Macfadyen
Matthew Macfadyen ("The Pillars of the Earth") stars as an inspector determined to separate fact from hype when a woman's body is found and believed to be the Ripper's latest victim. Jerome Flynn ("Game of Thrones") co-stars as a street-smart detective, and Adam Rothenberg ("Mad Money") plays an American with a knack for forensic evidence.
Plus: TV's 'It' girls | A guide to TV prequels
To generate buzz for the series, the basic-cable network has released an online teaser featuring the first three minutes of "Ripper Street." Check it out:
"Ripper Street" debuts Saturday, Jan. 19, at 9 p.m. ET/PT on BBC America.