Eileen Davidson Talks 'Days of Our Lives' Return
Kristen DiMera claims to be changed woman ... but is she?
On "Days of Our Lives," Stefano reached out to his daughter Kristen on Friday, Oct. 12, hoping she'd come home to save the DiMera clan. Remembering her history with Marlena and John, Kristen refused, but as fans know, it's just a matter of time. Portrayer Eileen Davidson talked to the press about her own return to Salem after years as Ashley on "The Young and the Restless" and "The Bold and the Beautiful," as well Kristen's homecoming and whether her wacky doppelganger Susan will follow.
Bing: More about "Days of Our Lives" | Eileen Davidson
Davidson's last tenure on "Days of Our Lives" ran from 1993 to 1998 and her zany final years saw her play five characters, including Stefano's adopted daughter Kristen, E.J.'s biological mother Susan Banks and Susan's siblings Thomas, Sister Mary Moira and Penelope. When last seen Kristen fell into a trap she'd set for Susan and ended up a harem girl. It's not clear how she got out of that, but it seems Stefano has been supporting her in Europe. Davidson talks much of Kristen's reform during this interview, but that's hard to imagine, especially considering the teaser clip above.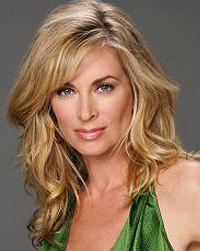 What was it like to return to "Days of Our Lives" after 14 years?
Eileen Davidson: When [writer] Jim Reilly was heading up, it was pretty crazy over there and I was doing five characters, so it was quite different for me then. I have to say it was a breath of fresh air coming back. Everybody was wonderful and I saw a lot of old faces and old friends. It's been really great. I'd never anticipated having such a great time.
Previews reveal Kristen goes to work at a church. How did that happen?
She's trying to redeem herself with Salem and convince everybody that she's changed. She's had tons of therapy. She wants to make amends and show that she is a better person. What better way to do that then to be working in The House of the Lord?
What is her agenda with respect to John? Is she out to break up his marriage with Marlena or is it all just a circumstantial misunderstanding?
Oh, I think Kristen is always misunderstood, so you just have to stay tuned and see how the whole thing plays out. But I have to say, it's been so much fun. Lots of twists and turns. She's very authentic and, I think, very convincing in the fact that she's wanting to be seen as a new woman.
Kristen was obsessed with John and we're assuming she still is, whether --
I don't know about that. She's had lots of therapy. Take it back, take it back! (laughs)
Okay, I take it back! Are there any other men that catch her eye when she comes to town?
All men catch her eye. She's kind of reborn this time around in Salem and she's interested in the opposite sex in lots of different shapes and forms. She's back, better than ever.
There's been buzz about her and Brady: What can we expect from that relationship?
He's very suspicious of her clearly, because of Marlena and John. He's very aware of everything [that happened]. Obviously he would be like, "You know, I'm not believing anything she says," and it poses a problem for her, the way that he's trying to protect Marlena.
Are there sparks between them?
Like I said, she has a thing about men in general when she comes back and she's trying to also prove that she's not interested in John. So are there sparks? I think there are, just in terms of the fact that she has such a history with his father.
How does Marlena take Kristen's return?
Marlena just doesn't trust her. No matter what Kristen does, it seems like she can't convince her that she's changed. The biggest hurdle for Kristen to overcome is getting Marlena to trust her again. And she's a hard nut to crack!
Is it fun to face off with Deidre Hall (Marlena) again?
Even better than the first time, even though the first time was such a hoot. I guess because I'd been doing straight drama for so long and there's just all of the history between these two women. Marlena knows Kristen in a way nobody else does. It has so many different layers to it. It's been fun for both of us to play. We laugh a lot.
What about working with Joe Mascolo (Stefano) again?
I love him and I've had some really good times working with him. I'd seen him in the hallway at CBS when he was on "The Bold and the Beautiful," but other than that, I hadn't seen him in all this time. So that's been really special.
Will Kristen have a relationship with E.J., who is sort of her brother and of course, Susan's son?
E.J. is her little brother, basically, because they're all DiMera's and Stefano very much wants her to put the family back together. So she'll be having a lot of interaction with E.J, which I love. It's fun [when you consider] what I did to his mother and him and now he is this grown man. It's a very interesting history.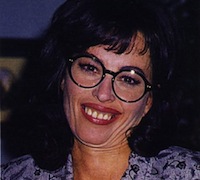 And will we get to see E.J's wacky mother, Susan, again?
I don't know. This show is such a different animal than it was 14 years ago. It's much more based in reality now than it was then. I don't know how Susan would fit into the format. Can you imagine her in Horton Square? I'm willing to try, because I have such a fondness for the character, but we'll have to see.
What has it been like to go from playing a "Young and the Restless" heroine to more of a villainess on "Days"?
I never got any tips on who Kristen was now and what has been going on, so I was just winging it. But the writing was clear and easy to play, so I just snapped into it. Kristin is so different than Ashley and there's a certain freedom to playing her, because of that. I've really been enjoying it a lot.
There were rumors, at one point, that you were going to do double-duty and appear simultaneously on both "Young and the Restless" and "Days of Our Lives." If that opportunity arose with the new writing team at "Young and the Restless," would you be interested in it?
I'm having such a great time where I'm at now. I don't really want to revisit stuff that happened a few months ago. But I will say that I have great fondness for both shows, clearly, and I'd always be happy to work at both places. I have no issue with that whatsoever.
"Days of Our Lives" airs weekdays on NBC.
Are you sure you want to delete this comment?