Steve Harvey loses it
Comic and daytime host breaks down over birthday surprise in viral video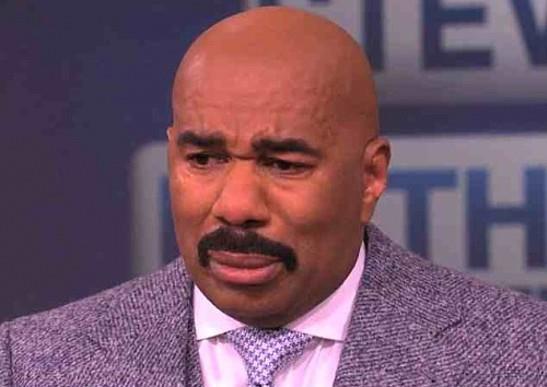 Laughs are what Steve Harvey usually mines from his audiences. But only tears came during a recent episode of the comedian's syndicated TV talk show.


As a 56th birthday surprise, Harvey's producers located a couple without whose support Harvey might have gone on cleaning carpets for a living instead of entertaining millions.

Bing: More about Steve Harvey

According to Harvey, Rich and Becky Liss took him in and hired him as a carpet cleaner for their Cleveland furniture store 30 years ago. Harvey decided to become a comedian a year later, but didn't have any money to travel. So the Lisses extended about $11,000 in credit to Harvey with their travel agency.

Plus: Ugliest designs on 'Project Runway' | 15 actors to Kevin Bacon | Births on TV

After hearing Rich Liss' name and voice, Harvey began slowly breaking down. After hearing the story, his studio audience followed suit.

"I love you, man," Harvey said. "I've been looking for you for years, man."

The segment was taped on Jan. 17 for future broadcast, according to the International Business Times, but a leaked video went viral on Monday, amassing nearly two million YouTube hits. Check it out yourself:
Harvey offered to fly the Lisses to Chicago, from their current home in Orlando, Fla., to appear on his show. No mention was made of the debt. But whoever makes those oversized checks can probably expect another printing order shortly.
 

Admit it: Did you cry watching this?


"Steve Harvey" runs daily in national syndication. Check your local listings.