'Once Upon a Time': The portal turns deadly
On set in Storybrooke and Fairy Tale Land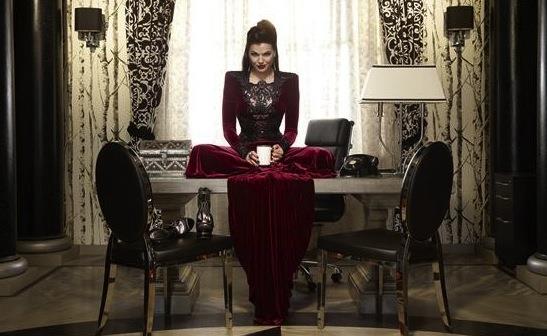 With Charming/David caught in a sleeping curse, the "Once Upon a Time" winter finale on Dec. 2 finds Mary Margaret and Emma even more committed to crossing back over to Storybrooke. They'll face off with Cora and Hook in their race to the portal, not knowing that victory could mean death. Regina and Mr. Gold are so desperate to keep Cora and Hook out of Storybrooke that they make the portal a lethal passage!
BING: More about "Once Upon a Time" | Watch clips and episodes of "Once Upon a Time"
MSN TV set up shop at Regina's desk in Storybrooke to get the story on the "Once Upon a Time" winter finale, as well as what's to come when the show returns in January. Of course, we can only tell you the first part… for now.
No surprise, everyone at "Once Upon a Time" had a different opinion about Regina's recent efforts to find redemption. The once Evil Queen's commitment will certainly be put to the test now that she knows her mother is trying to cross over to Storybrooke. 
"The thought of that happening terrifies Regina," Lana Parrilla (Regina/Queen) explained. "It's her worst nightmare. We only know some of what Cora has done to her, but think about what she's done to Cora! Regina banished her mother. She pushed her through a mirror and just got rid of her and tried to kill her."
Desperate to stop her mother, Regina secretly teams up with Mr. Gold, who is not only concerned about his former protege surfacing, but also doesn't want to see his nemesis Hook in Storybrooke.
"To show you how big the potential problem is with Cora or Hook, he's willing to let [Mary Margaret and Emma] die," Robert Carlyle (Gold/Rumplestiltski​n) teased. "Cora's just bad news. Rumpel is about himself, but I don't think he's necessarily world domination nasty and Cora probably is."
Regina and Gold put a plan into action that will kill anyone who crosses through the portal. When Henry learns the truth, he fights to convince his adoptive mom to believe good will win over evil. 
At the same time, the dueling forces in Fairy Tale Land wage their own battle. 
Last week, David dove head first into a sleeping curse and told Mary Margaret the key to beating Cora is magical squid ink hidden in Rumpel's old jail cell. With Aurora and Mulan by their side, the mother/daughter team believes they have the upper hand.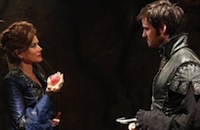 They're wrong. As viewers know, after Cora caught Aurora last week, Hook secured the princess' trust - and possibly Emma's - by setting her free. But he also secured Cora's trust again by stealing Aurora's heart for her. That heart gives Cora and Hook control, literally.
"Once Upon a Time" will reveal more about Hook this week when he travels to Wonderland and meets up with a vengeful Queen of Hearts, but it looks like Emma was wise to mistrust him. 
"Hook is that guy that will use whatever means necessary to get his own way," warned Colin O'Donoghue (Hook). "He'll have no problem being a charming gentleman to one person and be completely ruthless with another. His overriding motivation is to get revenge. He's not necessarily outwardly evil, but he's definitely self-serving."
Want more TV? Like us on Facebook and follow us on Twitter.
That hasn't stopped fans from rooting for an Emma/Hook romance, however, with the notion that Emma might bring out the good in Hook.

"I don't know if Emma would want to change him," O'Donoghue argued. "She didn't seem to hate it that much. He's that bad boy. She sees a bit of herself in him and it goes both ways, because she's not this wholesome person, at all."

Emma and the bad boy will face off, again, during the battle royal that ensues in Fairy Tale Land.
"Unfortunately, Emma is put in a situation where she now needs something and he has the upper hand," Jennifer Morrison (Emma) previewed. "There's a constant Ping-Pong back and forth of the power shift with them. They're always trying to rely on their abilities to charm and manipulate to get each other to do things."
Hook, Cora, Emma and Mary Margaret are all anxious to get to Storybrooke for their own reasons, but no one's more focused on their success than castmember Ginnifer Goodwin. Not only is her character Mary Margaret desperate to get back to her hubby and wake him with True Love's Kiss, but after spending half a season in that pink sweater, a wardrobe change is very much in order.
"In the first episode, I decided, because it was 70 degrees out, that I needed to lose my winter coat," Goodwin shared. "Had I held on to my winter coat, I would have subsequently had it in the forest when it was below freezing! I'm sick of seeing the fuchsia sweater. In general, I want to have a big bonfire party."
Before anyone celebrates, however, they have to make it to Storybrooke… without falling prey to Cora and Hook, not to mention Gold and Regina's deadly plot.
"Once Upon a Time" airs Sundays at 8 p.m. ET/PT on ABC.

Emma likes bad boys but she ultimately loves her son's father who sent her to prison.  We will have to see her forgive him and then things can progress forward.  That still would leave Regina in a lurch which is just the impetus to turn her back to evil.  I like the way they are flirting with this romance though, especially since we know Hook will eventually betray Cora.  The whole season has been getting better every episode.  My DISH coworker's family and mine get together Monday and watch the latest episode.  Now we can fit in another show too since my coworker suggested getting the Hopper so I can use the Auto Hop feature to watch commercial free.  I can select it to automatically skip the commercials and then we watch straight through.  What I like the most is that I get time to watch more TV and enjoy more of the shows we love.
Are you sure you want to delete this comment?