'The Young and the Restless' to honor Jeanne Cooper
Soap opera plans tribute episode for diva and will lay her character to rest in July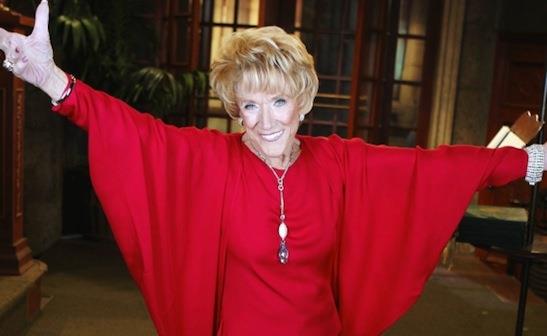 "The Young and the Restless" will break the fourth wall for a special tribute episode honoring the late Jeanne Cooper on Tuesday, May 28. Cast, friends and family will gather on the Chancellor mansion set for a celebration of her life. The death of Cooper's beloved character Katherine will not hit Genoa City until this summer.
Bing: More about Jeanne Cooper | "The Young and the Restless"
Cooper's May 8 passing left the daytime community reeling. The 84-year-old, Emmy-winning powerhouse had ruled "The Young and the Restless" canvas as Katherine Chancellor for nearly 40 years and was the show's longest-running cast member. This week, her co-stars will leave their characters behind for a day to shoot a special one-hour memorial episode.
"We'll serve tea and let everyone talk and cry and laughs and share, and we'll find the best photos and clips we can get our hands on and edit it all together into a beautiful celebration episode," explained "The Young and the Restless" executive producer Jill Farren Phelps. "This is all for Jeanne."

Plus: 10 reasons to love 'The Mindy Project' | TV's hottest moms | 'Full House': Where are they now? 
Scheduled participants include Jess Walton (Jill), Melody Thomas Scott (Nikki), Eric Braeden (Victor), Peter Bergman (Jack), Doug Davidson (Paul), Christian LeBlanc (Michael), Michelle Stafford (Phyllis), Tracey Bregman (Lauren), Kristoff St. John (Neil), Greg Rikaart (Kevin), Billy Miller (Billy), Daniel Goddard (Cane), Kate Linder (Esther), Bryton James (Devon), Tricia Cast (Nina), Lauralee Bell (Christine), Beth Maitland (Traci), Michael Fairman (Murphy) and Jerry Douglas (John); along with former costars John McCook (Eric, "The Bold and the Beautiful") and Heather Tom (Katie, "The Bold and the Beautiful"). George Guzman and Patti Denney, from "The Young and the Restless" hair and makeup department, will also share their memories, according to a TV Guide report. 
Cooper's real-life son, Corbin Bersen ("Psyche," "L.A. Law"), who kept fans updated through her final health battle, will also take part in the tribute. When Katherine passes away this summer, he will return to the show as his character, Father Todd.
Want more TV? Like MSN TV on Facebook and follow us on Twitter
As previously reported, Cooper's final scene has already aired. As seen in the May 3 clip above, Katherine returned to Chancellor manse after having a tumor removed and ascended the stair one last time. When Jill offered to help her, she said her final words as Katherine: "I think I can manage ... Goodnight."
Katherine will be written out of story and sent on vacation with her husband for a few months, so the show can properly address the character's passing. Genoa City will be hit by her death sometime in July.
"The greatest way to honor Jeanne is to make Kay's exit as dramatic and meaningful as possible," Phelps said. "We have not yet decided how Kay's life will actually end, but we are talking a bit already about what she will leave in her wake. It will be something that will leave the memory of Kay Chancellor deeply imbedded in everyone in Genoa City. What happens to Chancellor Industries? What decisions did Kay make in the event of her death? The ramifications need to be big."
"The Young and the Restless" airs weekdays on CBS.