Michael Strahan on being 'Live'
Talk show co-host talks about his day job, marriage and his signature smile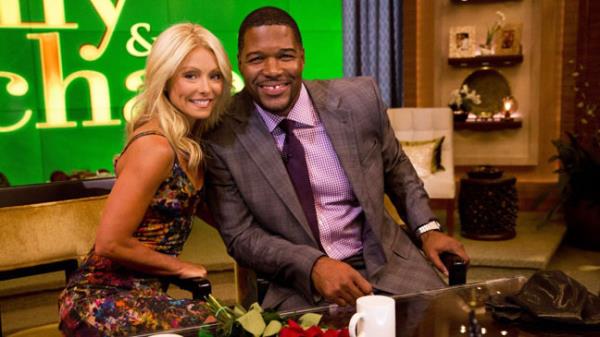 Former NFL great Michael Strahan has found his daytime groove.
He's been co-hosting "Live! With Kelly and Michael" for three months, and the show is enjoying strong ratings and a loyal following.
Bing: More on 'Live with Kelly and Michael' | Michael Strahan | Kelly Ripa
But the 41-year-old, who also works as a commentator on "FOX NFL Sunday," said he's really shy, despite his larger-than-life TV persona.
"When it comes to the camera, I can do my thing," the Super Bowl champion and one-time New York Giant said in the January edition of Elle. "But I'm bashful."
Plus: TV characters we lost in 2012 | Best and worst shows of 2012
Strahan, who is also known for his gap-toothed smile, said he once considered getting it fixed but is glad he didn't.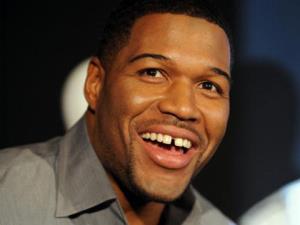 "I was in my twenties," he said. "I was playing with the Giants. There's so much pressure to be perfect. You can fix everything now. For me, I made the conscious effort to say 'This is who I am.' I'm not perfect. I don't want to try to be perfect."
A cuddly teddy bear compared to former cantankerous co-host, Regis Philbin, Strahan has had his share of personal drama. He's been married and divorced twice -- his last divorce played out in the public in very ugly ways -- and now he's engaged to Eddie Murphy's ex-wife, Nicole Murphy. The two have nine children between them.
But Strahan said he still believes in love and the institution of marriage -- and that's one of the qualities that endears him to his "Live" fans.
"Even though I'm not with their mother, it's important for my kids to see adults in a committed and happy relationship," Strahan said. "They need to see a strong relationship. You don't have to settle."
"Live! With Kelly and Michael" airs weekdays in syndication. Check your local listings.