Homer Simpson Gets Political Again
The king of d'oh and doughnuts casts his 2012 presidential vote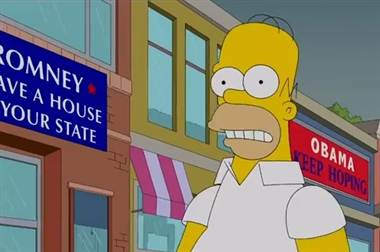 Homer Simpson is returning to the voting booth this year and true to the show's dogma, his decision to do so is full of provocative commentary and humor.
In a short released on YouTube this week, Homer is shown weighing his options before casting his vote. Will he vote for President Barack Obama or Republican presidential candidate Mitt Romney? 
Bing: More on 'The Simpsons' | Homer's voting habits in past elections
It's not an easy choice for "The Simpsons" patriarch. Homer is annoyed by Obama's health care bill -- "He promised me death panels and Grandpa's still alive!" -- and suspicious of Romney's skivvies. "I hear he wears magic underpants," Homer says of the former Massachusetts governor.
Plus: Politically incorrect on "Saturday Night Live" | TV shows that should be movies
And it isn't just the candidates who have Homer flummoxed. He's also annoyed by the whole Democratic process. "Why do we have to choose our leaders?" he grumbles. "Isn't that what we have the Supreme Court for?"
But the laughs don't stop there. After Homer votes, he is filled with regret and the short only gets funnier. Check it out:
"The Simpsons" returns for a 24th season Sunday, Sept. 30, at 8 p.m. ET/PT on FOX.
Are you sure you want to delete this comment?