'Animal Practice' Isn't Just Monkeying Around
NBC's new sitcom sees veterinary characters working together
"Animal Practice" has gotten a lot of traction and even a bit of controversy out of its promos featuring a monkey in scrubs, but there's more to this sitcom than animal mayhem. With the show set for a post-Olympic sneak preview Sunday, Aug. 12, MSN TV went on set to find out what Justin Kirk ("Weeds"), Joanna García-Swisher ("Better with You," "Reba") and the veterinary office staffed with vetted comedians and a monkey has in store for viewers.
Bing: More about "Animal Practice"
At first glance, there's no denying the animals of "Animal Practice" steal the show, especially Crystal the monkey ("The Hangover: Part II").
"Crystal's the star of any place that she goes," Joanna García-Swisher admitted. "She's pretty special. She's used to being adored and wanted."
Not only did Crystal rule a recent TCA press tour party, but the obsession has gotten so fierce that co-stars Kirk and Tyler Labine ("Reaper") have taken to pretending people are talking about Crystal the stripper or crystal meth when asked about working with the monkey. It's not easy sharing the spotlight with a capuchin, especially when you're a serious comedy character.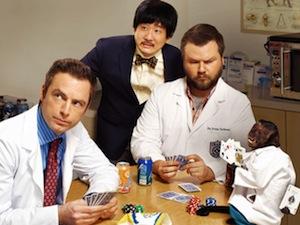 In fact, once we peeled our eyes off Crystal and the dog in a fat suit – yes, we saw a dog in a fat suit! – MSN TV couldn't help but notice how well stocked this cast is, with Bobby Lee ("Madtv"), Kym Whitley ("Reno 911") and Betsy Sodaro (Uptight Citizens Brigade) rounding out the office staff.
"This is the first time I've ever worked with a cast in which each person can stand on their own," Whitley raved. "Each person is talented. It makes me step up my game. The producers, directors and writers let us go and be free, and then they're like, 'That didn't work. Let's go back to the script.' It's an environment that you get to play. And you get to play with animals, wonderful animals."
Not always so wonderful, as Lee learned when the boa constrictor featured in the promo above released a defense hormone all over his face.
"No, that's not negative. When an animal pees on your face, in some countries, that's a hello," Lee deadpanned, before admitting the animal was indeed trying to kill him.
"It was squeezing and then it all the sudden, I couldn't see, because it was burning my eyes," Lee recounted. "And then you smelt it. It smelled like pure diarrhea. But I couldn't breathe anyway. I broke out of these hives and the Russo brothers wanted to shut down. I go, 'Relax. Listen guys, if I die tomorrow … Give it 24 hours. Just keep shooting.' I went home and took a couple Benadryl. 
"When I heard we were reshooting the pilot, I asked if I could do it again, because I thought it could be funnier, but they said no," he added. "The next episode I run through walls and get hurt. I'll wrestle Meerkats. I'll do anything." 
This cast is clearly committed to bringing the funny, but these days, sitcoms are about more than just the laughs and "Animal Practice" is no different. 
"It's not just the yucks," Labine previewed. "They're not afraid to pepper in a bit of emotionality."
"We have the fun, but then we have some heartfelt storylines that even at the table read are like, 'Wow,'" added Whitley.
Plus: The fate of your favorite shows | 2012 Primetime Emmy nominees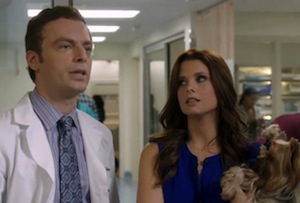 In fact, at the center of "Animal Practice" is the love/hate relationship between sardonic Dr. George Coleman (Kirk) and his newly returned ex-girlfriend and boss, Dorothy Crane (García-Swisher).
"There's a lot of history between us," García-Swisher previewed. "There's always that one person who gets under your skin, but in the most delicious way. Pushes all the buttons. You know it's not good for you, but it feels good. That's what our dynamic is. We could be on the brink of having sex at any moment. At least that's what I'm hoping!"
Sexy tease aside, "Weeds" fans won't see any of Uncle Andy in Kirk's snarky new character, which is part of what attracted him to the role.
"It couldn't have been further from Andy Botwin," Kirk said. "He's not the devil. We have nice moments, but it's important for our protagonist to be very strong, specific and, for lack of a better word, edgy."
"He's cold and sterile," Labine adds. "George loves the animals. He just hates the owners. My character is definitely the bleeding heart. He's the nice guy on the show, which is fun. It's definitely not my shtick. It's nice to not be the barnacle or the boob on the show."
Dorothy is the other office straight man, but Sodaro warns, "In real life, as normal as we may seem, we're all a little weird. Right?"
The other staffers are Dr. Rizzo the monkey, iron fisted Juanita (Whitley), bow tied Dr. Yamamoto (Lee) and ex con Angela (Sodaro).
"My character's very nerdy, but you can already tell there something going on with him that's a little twisted or sick," teased Lee. "Episode 3 is crazy."
"Yamamoto is hysterical," Whitley chimed in. "I'm pretty much the mama bear and the power person."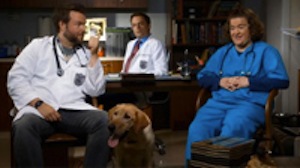 Angela (right) is the series' resident "player." "She hooks up with dudes left and right," Sodaro said. "In one episode, I get with a vet tech and a prisoner. [Angela is] kind of like that blind prophet, where people are like 'You don't know anything,' but then in the end, she knows it all."
Kirk's character was also going to get plenty of action, as the clip above eludes, but that's since changed.
"Shows take a minute to find what they are, and this one is finding it really fast," Kirk previewed. "The characters in this cast are well drawn, specific people, and they're already writing to our characters."
"I've been involved with this since the early draft of the pilot, so [it's been cool] watching it mutate as people are added and it finds it way," Kirk raved. "In the original pilot, Dorothy was engaged. We're told now that our chem is so high that it's actually changing the story. They were going to have me with a bimbo of the week, but now I just have one bimbo. Crystal. Not the monkey."
The "Animal Practice" preview airs after the Olympic closing ceremonies on Aug. 12, with the official premiere set for Sept. 26. 
Are you sure you want to delete this comment?