Paulson, Peters staying put on 'American Horror'
'Asylum' lead actors rejoining Jessica Lange for Season 3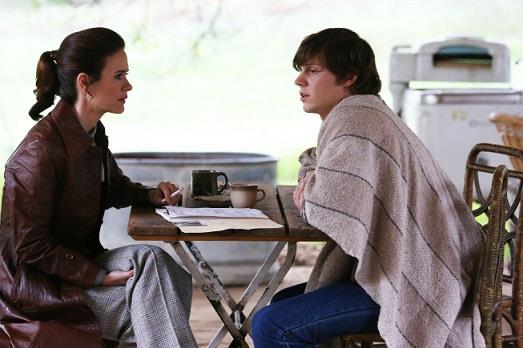 It's not so bad to be on
Ryan Murphy
's good side. Just ask "American Horror Story" vets Sarah Paulson and Evan Peters, who are wrapping up their second tour of duty on the FX anthology (
click here
for access to our season-long "Asylum" coverage) and now appear to be locked in for the trifecta. 
TV Line
reports that, during a press Q&A this week, show creator Murphy acknowledged the duo's imminent Season 3 return. They'll once again be cast alongside "AHS" cornerstone Jessica Lange, in addition to other, as-yet-unnamed series regulars. Murphy even teased that, "We want to have some new people come in and some [Season 1] people come back." 
He wouldn't divulge much about Paulson's impending role, although Peters will "probably go back to playing a sobbing psychopath." In addition, Murphy reveals that the next installment promises to be "more historical in nature" and will "take place in modern day," with the requisite flashbacks/forwards and some varied geographical locations.
All of that is fine and well, but first we need to know: Is Lana going to triumph of the stalking Bloody Face Jr. or what?
The Season 2 finale of "American Horror Story" airs Wednesday, Jan. 23 at 10 p.m. ET/PT on FX.