'Once Upon a Time' New Year's secrets
MSN TV goes on set to gather dish about 'The Cricket Game' and beyond
Regina finds herself in trouble in both worlds when "Once Upon a Time" returns Sunday, Jan. 6, at 8 p.m. ET/PT on ABC -- which means Storybrooke won't get much time to celebrate Emma and Mary Margaret's homecoming. The "Once Upon a Time" cast tease new problems, revelations and arrivals coming to the series in 2013.
Bing: More about "Once Upon a Time" | Watch clips and episodes of "Once Upon a Time"
MSN TV flew to Vancouver to talk "Once Upon a Time." And our sit-downs were ice-cold: We're talking puffy jacket cold! While that chill seemed perfectly suited to Regina's office, it was a strange place to visit with Ginnifer Goodwin (Snow/Mary Margaret), Jennifer Morrison (Emma), Josh Dallas (David/Charming), Emilie de Ravin (Belle), Jared S. Gilmore (Henry), Meghan Ory (Red Riding Hood/Ruby) and Robert Carlyle (Rumplestiltskin/Gol​d). Only Lana Parilla (Evil Queen/Regina) looked at home at Regina's desk, but someone did have his eye on changing that.
"I don't know if David would ever want to become mayor, but it feels good," Josh Dallas teased, a twinkle in his eye. "By nature, David/Charming is a born leader. He was filling in [as Sheriff] while Emma was away. And I'm not going to lie: The badge felt good. I was pissed that it was taken away!"
True love always wins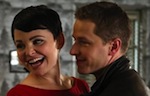 On the upside, Charming does have his family back. Emma and Snow were whisked to Fairy Tale Land right after the curse was lifted this fall, so Dallas is looking forward to David and Emma finally getting in some father/daughter bonding. The reunion with the Mrs., however, might get tense.
"Snow wants nothing more than to explore a provincial, suburban life with Prince Charming after all that she's been through," Ginnifer Goodwin explained. "You can therefore assume there will be conflict, because not everyone went through what Emma and Snow went through on that journey. They're separated by worlds metaphorically when she returns, because they were separated by worlds literally before."
One of the biggest conflicts Snow and Charming face this year will be whether to make Storybrooke their home or fight to return to Fairy Tale Land. Before that, however, the town and their daughter face a more pressing issue.
"It's not like Emma gets a break," Jennifer Morrison said with a laugh. "We have a party at Granny's and then there's all sorts of new problems!"
Murder in Storybrooke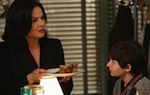 At the top of the list of new problems is the murder of a beloved Storybrooke local. While the Fairy Tale Land exiles are confident Regina is behind it, Emma won't be so sure.
"Emma wants to have hope Regina can change and that if they both really want the best for Henry, that there's hope for that," Morrison previewed. "She's also now met Regina's mother, so she has a very different perspective on who she is."


Regina gained ground in her relationship with Henry by removing the curse from the portal so that Emma and Mary Margaret would survive their return. Whether Emma and Henry are buying her efforts, however, Morrison isn't impressed.
"Regina is certainly trying to get what she wants in a way that seems less villainess," Morrison admitted. "And she may genuinely love Henry, but it's because she needs him to fill that hole in her heart. So her needs, even when they are supposedly for a good reason, are still self-serving."
Lana Parilla seemed ready to defend Regina, but when pushed, she revealed doesn't have much faith in her character's redemption, either.
"It's just a matter of time before she crosses back over to the dark side," Parilla conceded.
The entire cast raved about getting to play multiple storylines and characters at once, but Parilla and Robert Carlysle, in particular, enjoy the parallels between the Storybrooke adventures and their characters' descents into villainy in Fairy Tale Land. 
That doesn't mean it's always easy to keep track of everything. 
"I have to be straight up: It is so challenging to connect all these pieces," Parilla shared. "There are times when I go through 13 different emotions in one episode!"
Case in point: While Regina fights to clear her name in Storybrooke this week, the Evil Queen will face execution. "In Fairy Tale Land, she gets captured and you see her in a very different light," teased Parilla. "This episode is very dramatic!"
New revelations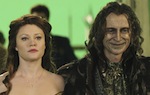 In addition to fresh drama, the New Year offers more Fairy Tale Land flashbacks. This week's episode "The Cricket Game" will bring new perspective to The Queen and Snow's relationship and with Rose McGowan cast as a young Cora, Cora's backstory is just around the corner. In addition, "The Outsider," airing Jan. 13, will flash back to the night Rumpel kicked out Belle, with the season set to delve into their ill-fated romance in both worlds.
"They are completely infatuated with each other and always have been," Emilie de Ravin said. "It's just [about] getting over these obstacles of being such different people coming from such different places and living such different lives."
De Ravin promised fans will enjoy the "Rum-Belle" story, but Carlyle warned that with "Once Upon a Time," that doesn't necessary mean the story will play out as fans hope. "But when you look at it, it's probably exactly what would be happening," he considered.
While Mr. Gold will try to make amends with his true love in Storybrooke, he isn't giving up on getting out of town - and doing so without losing his memory.
"As we know by now, everything is about finding his son," Carlyle reminded. "Nothing takes precedence over that - not love, power, nothing."
New arrivals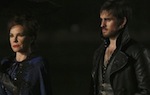 The New Year also brings new characters to Storybrooke, and we're not just talking about Cora (Barbara Hershey) and Hook. 
Ethan Embry shows up as a mysterious newcomer in "The Outsider," Gregory Itzin and Chad Michael Collins bring Dr. Whale/Frankenstein's​ (David Anders) family into the story on Jan. 20, "Walking Dead" star Sonequa Martin-Green recently joined the cast and lest fans forget, Emma's baby daddy Neal (Michael Raymond-James) recently received a postcard from Storybrooke.
There's no word on when Neal will come back into play, but he, Hook and Emma are already fueling a love triangle.
"As much as there are similarities in those relationships, those two guys couldn't be any more different," Morrison considered. "I'm hoping that Emma has some romance in her life [soon]. It's been awhile!"


It could be another while. Hook is indeed in town, but for the time being, he and Cora will "creep around," according to O'Donoghue. 
That doesn't mean they won't cause problems. Hook is on a quest for revenge and while it turns out Cora only wants her daughter Regina to need her again, her good intentions don't make her any less dangerous.
"She is the most terrifying villain we've had, because she's so charming and easy to believe and is just completely cold-blooded, without any remorse," Morrison declared. "She's one tracked about what she wants and how things are going to be, usually at the destruction of everything and everyone around her."
Cora may be even behind this week's mysterious murder, but don't make any assumptions there. These days, Storybrooke is packed with candidates.  
"There's lots of villains now. More villains than good guys," noted Carlyle. "It's fantastic!"
"Once Upon a Time" airs Sundays at 8 p.m. ET/PT on ABC.