Newt Gingrich to guest star on 'Parks and Recreation'
Former Speaker of the House in the right place at the right time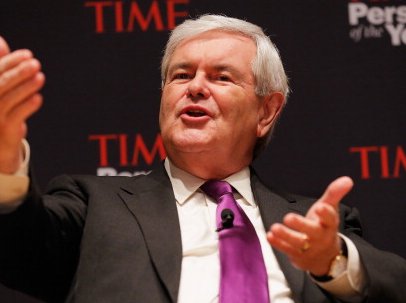 Forget daytime and late-night talk shows. The best way for politicians to stay relevant is to guest star on NBC's "Parks and Recreation." Last month, Vice President Joe Biden enjoyed a cameo. And now former GOP presidential candidate Newt Gingrich will get the chance to guest star.
Bing: More on 'Parks and Recreation'  | Newt Gingrich | Joe Biden
Unlike Biden's appearance, which was planned in advance, producers added Gingrich because he was in the right place at the right time. The former Speaker of the House happened to be walking into St. Elmo Steak House in Indianapolis, where the show was doing an on-location shoot Monday, when producers took one look at him and knew they had to weave him into the show. Gingrich was in town to meet with Indiana Governor Mitch Daniels and had stopped by St. Elmo to have lunch.
Also: Life after Victoria's Secret | Canceled or renewed
"It was a completely random chance," Mike Schur, the co-creator behind "Parks and Recreation," told the Indianapolis Star. "But you can't pass up on an opportunity like that."
Gingrich, 69, is excited about the serendipitous guest-starring gig, even if he's never seen the NBC sitcom. No word yet on when the episode, which revolves around Ben's (Adam Scott) bachelor party, will air.
"It was great fun," Gingrich told ABCNews.com. "It was especially great chatting with Rob Lowe. We have a mutual interest in General Grant and the Civil War."
Lowe was equally pleased and tweeted: "Latest surprise drop by on set: Speaker Newt Gingrich! So we made up a scene and put him in!! #AllHappeningInIndy"​
"Parks and Recreation" airs Thursdays at 9:30 p.m. ET/PT on NBC.