'AMC' and 'OLTL' production start date announced
Susan Lucci, David Canary, Michael E. Knight, Cady McClain on board for online reboot?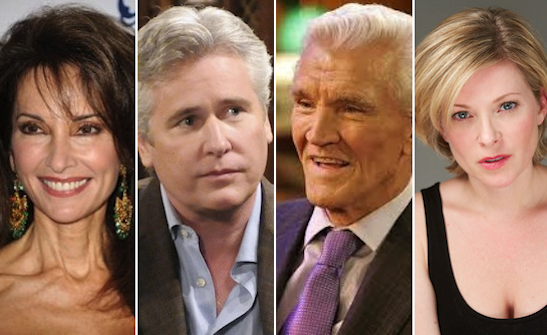 "All My Children" and "One Life to Live" will begin production on Feb. 26, with an eye for premiering online in late spring. While Prospect Park offered no additional news, rumors are surfacing about the possible returns of "All My Children" icons Susan Lucci (Erica), David Canary (Adam/Stuart), Michael E. Knight (Tad) and Cady McClain (Dixie). Plus, Jacob Young (ex-JR) recently spoke out about his commitment to "The Bold and the Beautiful." 
Bing: More about 'All My Children' | 'One Life to Live'
Susan Lucci and David Canary are on board for the "All My Children" reboot, according to Soaps in Depth sources. Lucci, who is involved in Marc Cherry's Lifetime drama "Devious Maids," will only make a one-time appearance. Canary, who retired after ABC moved "All My Children" production to Los Angeles, is said to be back on an ongoing basis.
Cady McClain (Dixie), meanwhile, recently blogged about nearing a new deal. "I feel confident in telling you that I will be a part of the 'AMC' Internet Re-boot," she posted Feb. 7, though nothing had been signed yet.
Want more TV? Find us on Facebook and Twitter.
Her onscreen love Michael E. Knight may be another matter. The show wants Tad Martin back in the mix, but Knight is not currently available.
"I consider it a blessing that the Martins are going to be represented," Knight told Soap Opera Digest. "It was simply an issue of timing, period… I didn't say no, I just said, 'I can't do it right now.' I love the fact that the interest is there and I firmly believe Tad is going to be walking through Pine Valley in short order at some point." 
In Depth reported the "All My Children" reboot will picks up five years from the finale, which saw JR level a gun at Pine Valley locals. The teens may be a big focus and it sounds like JR will also be central to the reboot, but Jacob Young won't be resuming his role.
"Obviously, I am here on 'The Bold and the Beautiful,' which is probably the best job to have and best place to be at on daytime," Young told On Air Soaps. "I cannot lie, Prospect Park did come to me... I said, 'I understand. If there was anything I could do and if it was in my power, I would absolutely, but ultimately I am here at B&B.'"
Young added that he's been getting calls from colleagues who are testing for his former role. "All My Children" is actually casting a few roles, according to buzz. Confirmed returns include favorites Darnell Williams (Jesse Hubbard), Debbi Morgan (Dr. Angela Hubbard), Vincent Irizarry (Dr. David Hayward), Lindsay Hartley (Cara Martin), Jordi Vilasuso (Griffin Castillo), Jill Larson (Opal Cortlandt) and Thorsten Kaye (Zach Slater).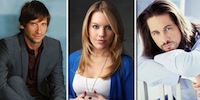 The "One Life to Live" cast is also coming together. Prospect Park has offered no additional casting news since the statement regarding "One Life to Live" transplants Starr, John and Todd, who have been banned from airing on "General Hospital." "General Hospital" costar Laura Wright, however, recently tweeted that Michael Easton (McBain), Roger Howarth (Todd) and Kristen Alderson (Starr) will indeed be back on set in a few weeks. 
As previously reported, several "One Life to Live" cast favorites have signed on for returns, including Erika Slezak (Victoria Lord Buchanan), Robin Strasser (Dorian Lord), Tuc Watkins (David Vickers), Robert S. Woods (Bo Buchanan), Kassie DePaiva (Blair Cramer), Jerry verDorn (Clint Buchanan), Florencia Lozano (Tea Delgado), Melissa Archer (Natalie Buchanan Banks), Hillary B. Smith (Nora Buchanan), Kelley Missal (Danielle Manning), Josh Kelly (Cutter Wentworth) and Andrew Trischitta (Jack Manning). Sean Ringgold (Shaun Evans), Shenaz Treasury (Rama Patel) and Nick Choksi (Vimal Patel) will show up as recurring players.

"All My Children" and "One Life to Live" are expected to premiere later this spring. The series will be streamed via Hulu and iTunes.