Nigel Barker moves to 'The Face'
Former 'ANTM' judge dishes on hosting Oxygen's new supermodel series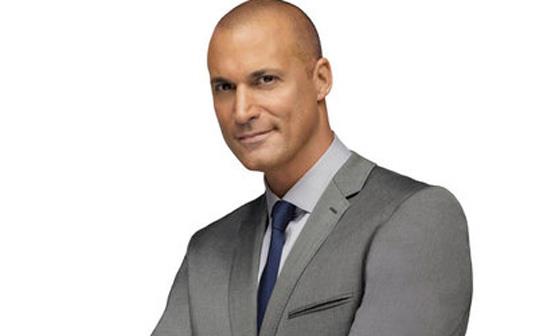 By Minh Nguyen
Special to MSN TV

If you miss renowned photographer and one of our all-time favorite judges for eighteen cycles of "America's Next Top Model" Nigel Barker, you can soon see him again as the host of Oxygen's reality series, "The Face" (Airing Tuesdays at 9pm ET/PT on Oxygen.). MSN TV recently had the chance to speak to Mr. Barker about his new show, which Team he'd choose to be on and advice on how to take great pictures.
Bing: More on Nigel Barker | More on "The Face"

"The Face" has three super-model coaches: Naomi Campbell (the Diva), Karolina Kurkova (former Victoria's Secret Model) and Coco Rocha (down to earth artistic poser). Twelve aspiring models are handpicked by the Coaches to be on their team and they will compete as teams for actual jobs. In the premiere episode the teams compete for an ad for W magazine. In each episode, the losing coaches must nominate the aspiring model they felt was the weakest member on their team. The Coach with the winning team will decide who gets sent home out of the two models nominated. The winner will be in a national campaign as "The Face" of Ulta.

MSN TV: How did becoming the host on "The Face" come about?

Nigel Barker: After "America's Next Top Model", I got a call from Oxygen. I went into the office and they presented the idea of "The Face" to me.

At that time I wanted to do something that was different. When I grasped the content and the idea behind it, I realized this was something we hadn't seen before. We've seen the fashion world but the authenticity behind it; the mentor idea behind "The Face" I had not seen before. It was refreshing to see these women: Naomi Campbell, Karolina Kurkova and Coco Rocha, explain exactly how they do what they do. There's a humanizing side to Naomi. It's exciting to see that process as a host and not as a judge.

As a host, do you miss judging?

No. it's one of those things where judging is not that fun, to be honest. Judging somebody and telling them what they're doing wrong is tough.

I've always tried on "America's Next Top Model" to be constructive, to show them how to make a picture work. I'm there (on "The Face") as a referee and to negotiate the situation, also to deliver to the audience what is happening and why they're doing it, breaking down the mystery of what they're doing. That part for me was a lot of fun. I don't miss the judging but I guess we all do a little of judging the book by its cover.

Since you've been a model, which team would you want to be on?

It's funny. Everyone has their strengths and weaknesses. It's interesting to see. Some of the girls will say they want to be on Team Naomi, while other girls will say they want to be on Team Coco. You wonder why they say that.

Me personally, none of them would work for me as a male model but maybe they'd all work. I don't think I can play sides that way.

You were on "The Clothes Show," do you feel that helped you be more empathetic towards the reality aspiring models?

Yes, definitely. My start was from "The Clothes Show", a televised modeling in 1988, '89. I forgot now. I didn't win. I was in the top three but I definitely know what it feels like to be on a show like that. I know winning and how far one's career can go. I had a very successful modeling career and I've worked in television.

A lot of people say, "These TV shows are only possibilities for winners" but for me that's not the case. It's a stepping stone. For me, "The Face" is not just a one page ad in a magazine or cash and prize; it's the actual brand spokesperson for Ulta Beauty. They will be the only face for that entire campaign. They're going to be in the store front, in the catalog, advertising, commercial.

We did see the first episode where there was drama not only with the contestants but the Coaches. What else can we expect to see?

There's definitely drama. We have three supermodels of none which like to be told no. Each one of them wants to get the job. You're going to get drama.

A big part of it which is a beautiful takeaway is you get to see how these ladies think and you also get to see how warm they can be as well. It's one thing to take it out of context and to have drama for drama's sake. We don't do that on "The Face", there isn't over dramatization. It's there because people are passionate. It's there because they believe in their job, they believe in the girls. It's not overproduced. You can't help but love the honest truth regardless of how painful it might be.

As a renowned photographer, could you please give advice for women who don't know what to do in front of the camera?

There's only so much advice one can impart. I have a lot of tricks up my sleeve that I use. I've been mentoring people for years.

For example, when someone's standing in front of the camera, they take a picture. I don't look interested, like I have anything in my eye, like deer in the headlights where you're staring. I always say,

"Think of something delicious melting in your mouth as if there's chocolate on your tongue, dissolving and how good it is." Quite frankly, (sometimes) you've got to put a chocolate in your mouth. That moment the thought process that it's delicious, that picks up in the picture and makes it come alive.

Another great tip: play music. If you can… fabulous! If you can't, you're on the street, play the music in your head. Think of a favorite song that you love. Get the beat, rhythm. Music makes you feel alive inside.

Finally, it's a good idea to not squash your arms against your body. It's one thing if you're a guy and looking to have big biceps and big arms. If you're a woman, most women don't want their arms to be bigger than they already are. They want them to be as slender as they can be so put them on your hips or move them away from your body.

Another good idea is to put your head high up in the air, tighten your neck muscle. When you bring it down, look over one shoulder towards the camera, you're making your silhouette slim. Your double chin is tucked but only for five to ten seconds max.
"The Face" airs Tuesdays at 9pm ET/PT on Oxygen