Jennifer Hudson is prepared for Broadway
Oscar-winning actress says new 'Smash' role is readying her for the Great White Way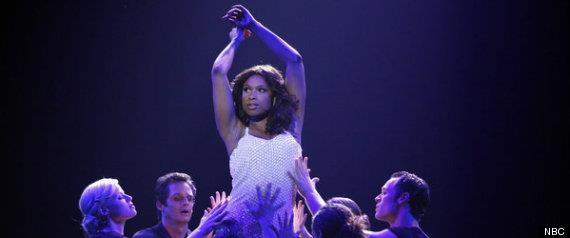 "Smash" has become a Broadway training ground for actress and singer Jennifer Hudson.
The Oscar-winning performer is joining the show's second season, which kicks off in February, and said she has a lot of respect for the folks from the Great White Way because of the work they have to put in.
Bing: More on 'Smash' | Jennifer Hudson
"Doing the show has helped me get my feet wet for Broadway," Hudson told Entertainment Weekly. "I like to take one step at a time and I feel like this was a huge leap, but a great start into walking into that world, which is something I definitely want to do one day. It's not easy being on the stage, on Broadway. I take my hat off to those people."
Hudson, 31, will play a Tony-winning actress named Veronica Moore in a multi-episode arc. She'll also diversify the cast, which was criticized for its shortage of people of color in Season 1. "Smash" also stars Megan Hilty, Katharine McPhee, Debra Messing and Anjelica Huston.
Plus: TV hipsters | Reality dramas of the future | TV's best marriage proposals
As for the role, the one-time "American Idol" contestant said she's enjoying it because of the drama's pacing and originality.
"You're constantly creating new things on so many different levels," Hudson said in an NBC video. "One minute you're in the studio, the next second you're doing choreography, the next second you're acting. It's a huge challenge, but I love it."
"Smash" Season 2 premieres Tuesday, Feb. 5, at 9 p.m. ET/PT on NBC.