On the case at 'Hawaii Five-0'
McGarrett and Kono find themselves caught in family dramas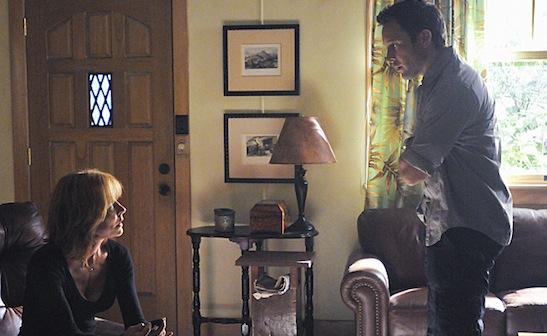 The "Hawaii Five-0" crew has continued to take down the toughest criminals in Honolulu this season. They've also been hit by a slew of life-changing shifts, not the least of which was Doris McGarrett's (Christine Lahti) return from the dead. On Monday, Nov. 19, Steve McGarrett tries to facilitate a reunion between his mother and his sister (Taryn Manning), while Five-0 investigates the murder of a young hacker. As the case unfolds, Kono finds herself in trouble and the McGarrett reunion won't go any easier.
Bing: More about "Hawaii Five-0" | Watch clips and episodes of 'Hawaii Five-0'
MSN TV set up shop in Five-0 headquarters to get the story. Before taking over Chin Ho's office, however, we ran into guest star Taryn Manning in the open-air hallway between stages. As we chatted, sets and props whizzed by. At one point, so did Scott Caan (Danno). He was riding a crewmember piggyback style and hung on all the way to the parking lot.
"He's such a weirdo," Manning said with a laugh. "I love it. I love my 'Hawaii Five-0' crew."
Plus: TV's changing tides | Dead shows we wish would return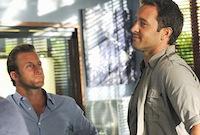 After a day on set, MSN TV understands. This "crew" has fun together, whether they're laughing between takes at headquarters, hanging out off stage or barbequing on the weekends. Caan's dog, Dot, meanwhile, seems to keep everyone in line. She stopped by a few times to make sure we weren't getting into trouble.
"She runs this joint, for sure," Manning panned.
While the crew was laid back and dog friendly, the on-stage tension was at a high during our visit. Lahti and Manning were red-eyed and warn out by the end of their day.
"It's heavy," Manning previewed of their story. Doris McGarrett is ready to meet her daughter, but McGarrett hasn't even told his sister she's alive yet. "He won't tell her over the phone. He's says, 'You need to just come.'
"When you first see her at the airport, she's wheeling this very old man. She's a caregiver now and had to bring him, because she looks after him fulltime. Steve's a little put off. There's big stuff going down, so he's like, 'What are you doing?'"
As fans may recall, the last time we saw Mary she was a stewardess. But hey, at least she's not wrapped up in something illegal this time!
"Every time we see her, she's doing something else," Manning noted. "Mary can't quite get in the groove. My scenes with Steve are funny, because Alex (O'Louglin, McGarrett) has to put on this older brother front. Mary always seems to get an eye roll or a shake off the head and then a smirk."
"She's a head case, man," O'Loughlin added. "Over the seasons, we've seen him soften at times and reach out to help her, but he's constantly perplexed by the choices she makes and just how her brain works."
When McGarrett tells Mary about their mom, however, he can relate to her response. She's just as stunned as he was by the reveal. Like him, she's also just as pissed.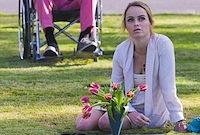 "Everything she's been through comes out in this episode," Manning previewed. "She's mad, she's sad - It's emotional!"
With Mary hurting, Mama McGarrett may not get her reunion. 
"The whole question of the episode for me is: Will she or won't she see me?" Lahti teased. "I try to track her down. I try to force it, which doesn't go so well. To have your mother die and come back 20 years later? I'm sure Mary's got trust issues."
Want more TV? Like us on Facebook and follow us on Twitter.
McGarrett, who was a heroic loaner when "Hawaii Five-0" first introduced him, suddenly finds himself the man in the middle.
"Steve has to do a bit of micromanaging within the family, which isn't his strong suit," O'Loughlin shared. "It's a completely new experience. He has to remove himself from his military man way of thinking and get a little more compassionate."
McGarrett will get a break from the family drama after this episode, but this isn't the end of it. Lahti is scheduled to return in 2013 and Manning will likely return, as well.
"There's still a lot of secrets and a lot of things unanswered," teased Lahti.
In the meantime, Manning is enjoying the effects this season's extra dose of estrogen has had on her onscreen brother. 
"Steve has a steady girlfriend, he's got the family aspect - We're finally seeing this superhuman have an actual life," she raved. "And when Alex, in general, smiles and is happy, he's freaking charismatic beyond words."
As previously reported, O'Loughlin has reason to be flashing his megawatt smile off screen, as well as on. The Aussie has recovered from last season's injury, is off prescription pills and welcomed a son, Lion, in October.
It also doesn't hurt that this season's B stories have focused on McGarrett. While the crime is considered the A story on "Hawaii Five-0," technically, anyone in the Five-0 crew will tell you they most enjoy playing the character development.
"The procedure of the week is part of the formula, and we do it well, but the character stuff is what makes 'Hawaii Five-0' what it is," O'Loughlin said. "It's a rich tapestry, where I feel like I know these guys and therefore I love them."
"Hawaii Five-O" also relies on a third component. "The least likely ingredient to be found in a procedural - comedy," executive producer Peter Lenkov added. "It's our mantra over here, infusing each episode with the three C's -- Crime, Character and Comedy."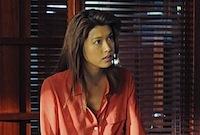 There's also a ton of action, of course, and this week, some of that will fall in Kono's lap when she's left to fend for herself and a family in trouble.
"This case is a cyber crime thing involving a young child with autism," Grace Park (Kono) teased. "The whole family becomes involved in the way they didn't expect. It's slightly different than our other crimes and yet it fits right in the whole 'Five-0' thing."       
You can catch a sneak peek of the "Hawaii Five-0" action here, or wait to see it all go down Monday.    
"Hawaii Five-0" airs Mondays at 10 p.m. ET/PT on CBS.