Nigella Lawson dishes on 'The Taste'
The TV cook gives us a taste test of ABC's new series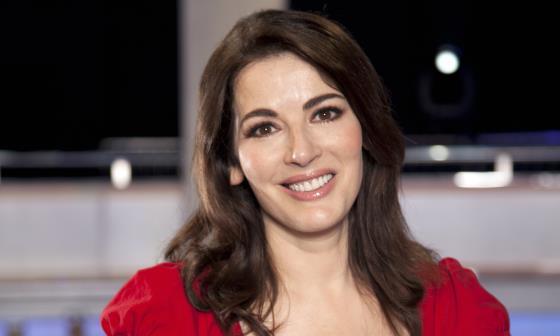 By: Michelle Strub
MSN TV
"The Taste" premieres Tuesday night, and from what we've seen, it looks to be a hybrid of "The Voice" on NBC (see: "blind" taste testing) drizzled with a bit of something you might see on the Food Network. In other words: reality competition TV with a real bite.
Nigella Lawson, whom you may remember from the Food Network circa 2006, is bringing her un-Photoshopped belly and home cooking background to the judges panel along with culinary bad boy Anthony Bourdain (of Travel Channel fame), French chef Ludo Lefebvre and "Top Chef" (Season 3) alumnus Brian Malarkey.
Nigella recently sat down with MSN TV to dish on her food philosophy and what it was like judging with "the boys."
Bing: Nigella Lawson | 'The Taste'
MSN TV: Hi, Nigella. Thanks so much for speaking with us today. We have to tell you, we're big fans. We remember watching you on "Nigella Feasts" on the Food Network back in the day. Is your experience there what led you to "The Taste"?
Nigella Lawson: The producers from Kinetic Content came to me and they said, "Hey, look, we've got this idea for this show, and we'd like you and Tony [Bourdain] to be not only mentors but also executive producers so that you really feel that this is a show you want to be a part of." And I thought, how can I say no, because you've got the two last people in the world you'd expect to do reality TV. Therefore, in some too-ridiculous upside-down world, it made sense. And if he was game, then I was game. So that's how we went on. And I felt that I'm about home cooking and I'm about good food that's not necessarily complicated but just gives an enormous amount of pleasure. That's what I think. So I was really pleased to be a part of this cooking show because I thought it was really interesting to be a part of a show that wasn't all about that inaccessible world of the professional chef.
So I love the fact that because the whole premise of 'The Taste' is that we were never to know who had cooked what, it was never going to degenerate into personal cruelty. I mean, personal cruelty among the judges – fine, but personal cruelty to the contestants ... It was really always going to be about the taste, so I felt, well, I believe in that, because to me food is all about the taste. I'm not really interested in the rest. Yes, it should look beautiful, but food looks beautiful by itself. It doesn't need someone with – you know – putting pretzels on with forceps or incredible knife skills. So that interested me. I liked the challenge of just one bite. You couldn't go on endlessly deliberating; you just had to go by your gut instinct. Because I'm a big believer in going just by by your instincts and your heart. I think it doesn't really matter – you can think this, you can have your prejudices – but in the end when you taste food, you know. You know, you know. It's like when you kiss someone. There's either chemistry or there isn't. So I thought that was very important. And I also thought it was very democratic.
But what also brought me to it is that it frightened me, and I think sometimes you do things that make you very frightened. It had everything: people I admire and it had a lot of food. To me life is about, I suppose, life is about people, love, passion and food. So this was the show that was going to have it all. So, perfect.
More: Bourdain has become a softie on 'The Taste'
It sounds perfect! We've seen a couple of commercials and can't wait to watch it, but what we couldn't tell was what the contestants win. Is there money involved?
There is a LOT of money involved. $100,000 is involved. Plus, there is a car, and of course there is the "Taste" trophy, and that's obviously the most important prize. It's also – I think it's just about making everyone realize that food is about the taste. And I think people need to be reminded because I think food has been dominated by the professional realm. And actually, I love going to restaurants. Who doesn't? But when I think of delicious food that makes me feel happy, I think of home food, and I think that viewers will feel very pleased to see that they are represented, that we – the home cookers – are represented. But also, you know they all think that we're being complete idiots when we don't know what the food is that we're eating, but all the people who think, "Who are these people who do this for a living and they still don't know whether it's lamb or beef?" I think, "Tomorrow you try. I'm going to cook you a dish that you don't know what it is, put it in a spoon and make you shut your eyes and eat it. And then you won't know either." So it's quite interesting. I think it's going to be quite a good kitchen game at home.
There's a mixture of home cooks and professional chefs who compete on the show. Were you surprised by any of the home cooks blowing the professional chefs away?
Well, I wasn't because I'm a home cook. I was like, see, boys, I told you! I was a bit like that. And they were going, "Oh no [grumble]." So I wasn't surprised, but I was slightly alarmed at the lack of confidence of the home cooks. The way they'd say, "Oh no, I'm just a home cook." And I'd say, stop with the "just," you know? You cook with real food. So I think it's time home cooks gathered confidence and belief in ourselves. You know what, food is food. A story is either a good story or it's no story. Food tastes good or it doesn't matter what it looks like. So, really, what it taught us as judges is to stop making these separations. Because in the end you're either a professional chef or a home cook and either your food tastes good or it doesn't. That's it. Bottom line. And in a sense we all lust after food that tastes good; otherwise, otherwise why bother? You may as well eat something out of a can if you don't want it to taste good.
Absolutely! Going back to the cruelty between the judges, what was it like working with Tony Bourdain and the other judges, Chef Ludo Lefebvre and "Top Chef" alum Brian Malarkey? What was the dynamic between you all?
I would say there was not a lot of love lost between Brian Malarkey and Ludo Lefebvre. Of course I was sitting on the judging panel between the two. I had to break up fights. I had to keep the boys in order, sometimes with a kiss, sometimes with a smack. I had to be firm. But I loved them. I called them my boys. I got very fond of them even though sometimes they could drive me absolutely mad. You know, we all care so passionately about food, so of course we're going to argue. Because if you can't feel – if you feel detached about what you're eating, then really what are you doing? I mean, we all care.
What was interesting, of course, is the food is subjective. And we all come from a different place both professionally and culturally. So we all had different connections and connotations for food so that, sometimes, something that would appeal to someone's childhood would not appeal to someone else's. So we were endlessly fighting and thrashing everything up. Not in a, I hope, not in an undisciplined kind of way – Ludo maybe – but we can't be expected to agree. Nothing was fed up. No one wanted to fight. What was funny is that sometimes we'd carry conversations off-camera as well. Sometimes we'd have to put a ban on discussing anything off-camera because we'd go on and on and on. And Ludo would say, [in her impression of a French accent] "Oh please, not with the mushrooms again!" if we were having supper or whatever. You know, we care about it. I'm always so obsessive about what I eat and what I cook. And I love every aspect of it. And it's hard, actually. It's hard because then you do grow attached to members of your team. As Tony said, "I identified more than I thought, but maybe it was just Stockholm syndrome." But you do. And so, it does mean something to you. Although, it was really helpful not knowing something about them when tasting their food. I would hate ever to be making personal comments. And also, you don't want to know someone's tragic backstory if you're about to say, "You know, that wasn't very good." It doesn't help them, unfortunately, but at least it helps us. [Laughs]
Do you think "The Taste" looks tasty? Tell us at MSN TV on Facebook and Twitter.
The two-hour season premiere of "The Taste" airs Tuesday, Jan. 22, at 8 p.m. ET/PT on ABC.